Shackled to notifications
Just a while ago I sat down in a front of a computer. I have a very important article to write. The deadline for sending it ends in three hours. I have think over it in detail; what I want to write and how I should write it. This should go smoothly and be done in no time at all.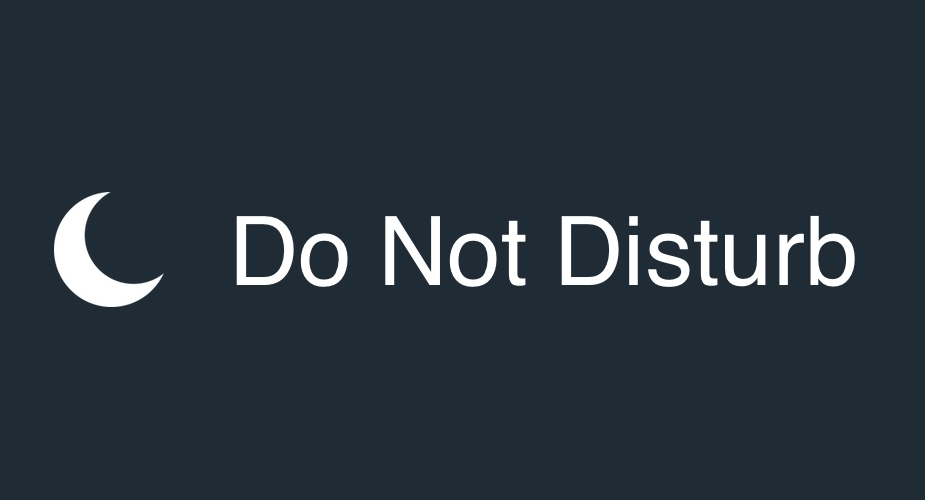 Flash in the pan
I am full of verve. The most difficult part is already behind me — I figured out what will my article be about, and that's always the biggest pain. I always convince myself that when I force myself to sit down and write, then it goes like clockwork. Then, I simply work as a professional typist — I am a master of my keyboard, and I will have my article ready in just a flash.
I have already written the title of my article. I am trying not to focus on it, since there is always time to change it. However, I know that in my case the first thought is always the best. Never after I finish an article can I find a better title than the one I wrote at the beginning. Being aware of that, I cannot help myself and need to devote a bit more time to the title… The first five minutes have passed, but at least I have a title.
Take a break for Twitter
After such an amazing start, I am still full of zeal. I did a great job with this title! Meanwhile, I got a notification from Tweetbot. Somebody just mentioned me in a tweet with a short movie taken at a triathlon that took place this past weekend. I can't keep myself from watching the movie. To be honest, I could do it later, but I still have a lot of time in which to write my article. There is no harm in taking a break from hard work, right? I reply with two or three tweets, and while I'm at it, I check my Twitter timeline. Of course it is full of interesting and important news. Bah! 20 more minutes have passed and still I only have the title of my article.
Let's listen to music
OK, I slap myself and come back to work. I wrote my first two sentences and then Apple Music started to play another song from a suggested playlist. And there is a notification! Oh! I don't know that song, and the band is awesome. For a short while I am tapping my fingers to the music — it almost sounds like my favorite band, Slayer! I like it! So I switch to iTunes and check out the band. I browse for a while and then add their latest album to "My Music". Then I do another irrational thing - I grab my iPhone and check to see if the album has been added to "My Music" on this device. And what about the iPad? I check it as well. Yes! It is on all of my Apple devices right now!. I love this kind of synchronization. I listen to the first, then the second song from album I just added. Another 10, maybe 15 minutes passes by, and I have only a title and first paragraph.
Just one very important mail
I shake it off, turn off iTunes, and then type a few words in the silence and focus. But what's that? I am getting email. Oh no! I take a glimpse at the notification, and it may be an important message. OK, I click at the notification that brings me to the Mail app. Unfortunately, it is a very important and long mail message. I read it for a while longer and think about whether should I reply now or later. It's important, so I'd better reply now. Instead of writing my article, I'm writing my email reply. In the meantime, I got two more very important messages. I give up, and after sending my reply to the first email I shut down the Mail app. Let it go! I have just lost more critical minutes of work to notifications. Well, I do have to reply to important mail, but it didn't get me any closer to the end of the article I have been trying to write for two hours.
Devastated, broken and desperate due to my lack of productivity, I once again try to sit down and start writing. I stare blankly at my text. I have to read it from the beginning, since I've already forgotten what I was writing about. I am trying to evaluate its merits, and I know it is a failure. I admit to myself that the piece of the article written between one Twitter notification and replying to email cannot be good.
I turn off the Mail app, music and Tweetbot and start again from scratch. I write in a frenzied passion for another dozen minutes and just when I am starting to become proud of myself, I get a notification from the Slack app. It's hard to ignore it, since someone wants something important from me here and now. I start a short chat that should only last a few minutes.
Everybody, but not me
Meanwhile, I get another notification, this time from Dropbox. My co-worker edited a file stored in that cloud. Finally! I had been waiting for it for over a week. What a lazy man he is! He needed so much time for this. How one could be so giddy and so unorganized as to be so late with his appointed tasks? I wonder what finally dragged the work out of him? Shouting in my mind at my colleague who was late with his work, I start to realize the irony of the entire situation. From the corner of my eye, I glance at my watch and I know that I have a serious problem with meeting my deadline. In just this moment, another notification appears. This time, the notification is the most dramatic one I've received all evening - OmniFocus just informed me that the allotted time for delivering my article has just run out and I have been working on this for three hours. A few seconds later my co-workers calls me, saying "Half an hour ago I sent you a message telling you that you can't break the deadline. Why didn't you reply?"
Do not disturb!
Have you ever experienced something similar to this situation? Do you recognize yourself as the distracted worker? In my case, this happens too often. Notifications chase notifications, with somebody always wanting something from me, and everything must be done right now for if I don't answer that email in an hour, I'm pretty sure my phone will start to ring.
I have two methods to deal with such situations. First is turning on "do not disturb" in Notification Center. I almost always turn it on when things start going this way. Second, I try to force myself not to disturb my own work. It's not good to postpone almost-done work when I am getting tired and I know I still have plenty of time. The pangs of remorse are much bigger than the satisfaction of well-done work in such cases.
So, I really had to finish this article at Midnight, and it's only 11:26 PM. Well done!
This article was previously published in MyApple Magazine No. 1/2015