After testing two electric cars - Mini Cooper SE and BMW i3s - the time has come for a car that can already be found on Polish roads - Nissan Leaf. A week spent behind his wheel is a very interesting experience in many respects.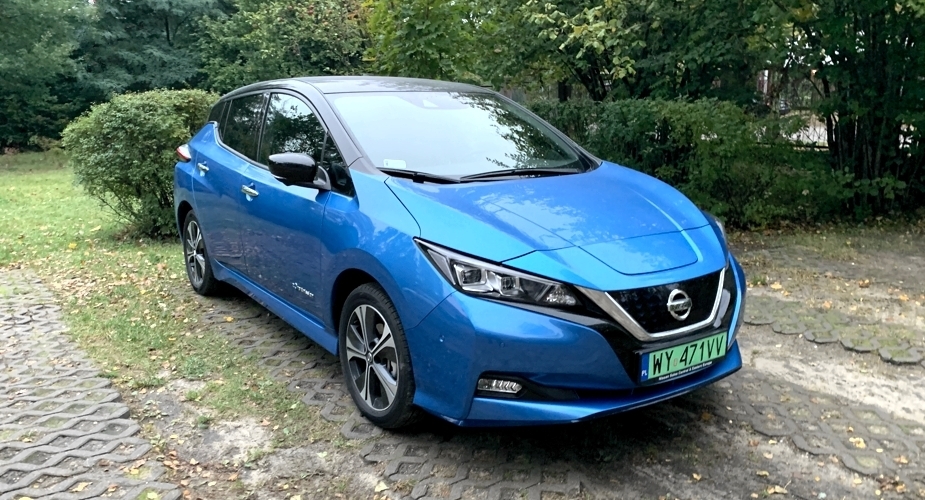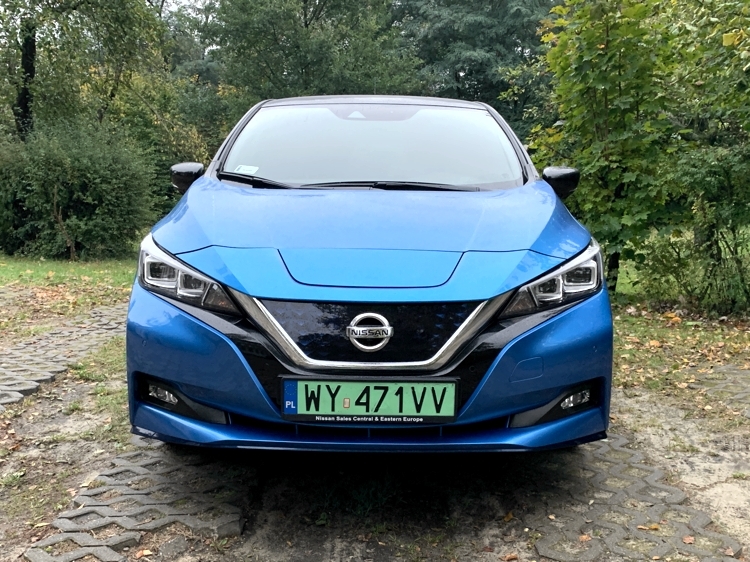 Range and charging
In contrast to the eminently urban BMW i3s and Mini Cooper Se cars I have already described, the Nissan Leaf definitely stands out for its range. On one charge you can drive about 340 km, and in eco mode and with the air conditioning off, seat heating, etc., even more - the range declared by the manufacturer is 385 km. This allows you to drive not only around the city but also to go somewhere further, e.g. from Łódź to Poznań, Wrocław or even Gdańsk. Larger expeditions are not a problem either, as the car loads up really fast. Full battery recharging takes a little over an hour - with a longer trip it's enough for coffee, bone straightening and resting in a longer journey. What's more, with such a range, you can make shorter stops every about 200 km and charge it shorter, and with more than 100 km to go, you can not worry that the only charger in our range is busy or - what's worse - broken.
The car has an AC and Chademo checkout at its disposal. Surprisingly, unlike the already mentioned BMW i3s and Mini Cooper Se, it charges much faster. After all, it has a much larger battery (62 kWh) and it takes about 1.5 hours to fully charge it with the Chademo connector. This is really fast. The process of recharging is not so frustrating and so time-consuming.
With a city drive doing about 30 - 40 km a day, the Nissan Leaf will be charged once every 10 days, and maybe even less frequently. You can also recharge it when shopping in shopping malls, where you can usually find several slower chargers. In Lodz we have a few more free ones (e.g. in Manufaktura and other pilot ones, which will be free for some time to come), so you can actually drive this car around the city almost for free.
It can also be recharged from a 230V socket. Here, however, recharging a battery of this capacity will take about 20 hours. In this case, if you have a house or garage, you can recharge it every third or fourth night.
I will also mention the charging light located right next to the windshield and consisting of three blue LEDs, which light up with the appropriate level of battery charge.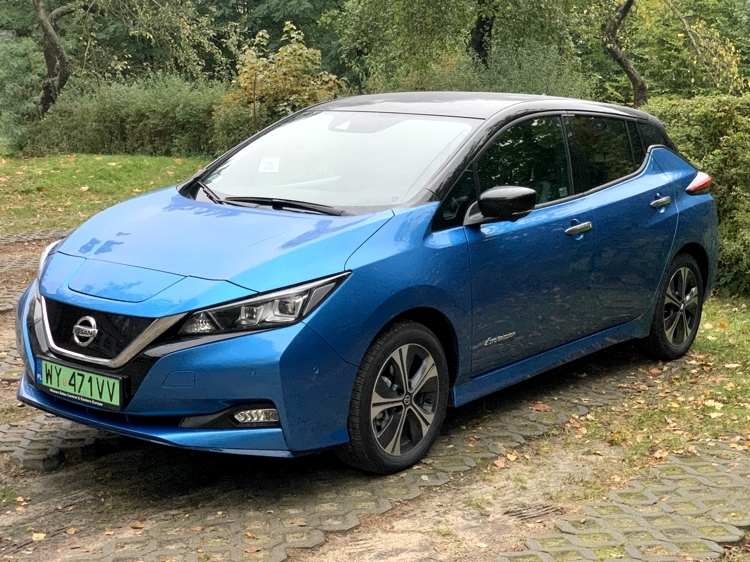 Driving
So far, every electric car I have had the opportunity to drive aggressively recovers energy during braking. This was also the case with the Mini SE and BMW i3s, which I have already described on MyApple. It was enough to let go of the gas, the stop lights came on and the car started to brake and not just lose speed. Thanks to that, in electricians, if you can control the driving and behavior of the car after releasing the gas pedal, you actually rarely use the brake pedal. However, in the Nissan Leaf we have a choice. By default, this aggressive energy recovery is disabled and the car behaves similarly to petrol models, so it loses speed when you let go of the gas pedal, and to stop it you have to use the brake. The aggressive energy recovery function is called in the Leaf e-Pedal and you have to activate it manually with the appropriate switch next to the shift cuff. In fact, when driving with the e-Pedal function activated, I pressed the brake pedal very rarely.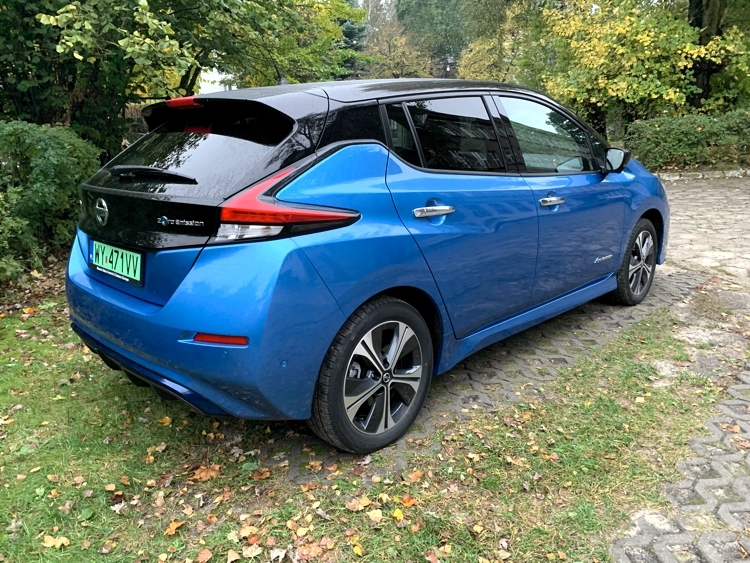 The tested Nissan Leaf is equipped with a number of solutions to make driving easier and safer. There are cameras around the car, front and rear parking sensors, blind spot sensors. There is also a Pro Pilot system with active cruise control that adjusts the speed to the vehicle in front of us and keeps the car on the line. Driving on the highway, all you have to do is hold your hands or a hand on the steering wheel and the car will drive itself (initially it's a strange feeling when the steering wheel itself turns slightly at hand). Letting go of hands from the steering wheel is immediately detected and the driver gets the right signals (initially on the display, then an audible one), and if he does not react for a long time, the car will stop and turn on the hazard lights. All this with the cruise control active, so it will be useful especially on the freeway.
The electric motor also provides very good driving dynamics and acceleration. The car gathers up very quickly and reacts to pressing the gas pedal at virtually any speed (100 km/h reaches in 6.9 seconds). It also has a slightly higher maximum speed than the Mini Se and BMW i3s described by me earlier. The maximum speed in the Nissan Leaf e+ is 157 km/h. Surely this is not a car for people with excess testosterone, who prefer left lane and speeds over 200 km/h, but I am not one of them. There is also an eco mode, which of course reduces the dynamics but increases the range.
Design and comfort.
I'll start with what I have the only problem with this car, and I'll point out straight away that it's nothing really big. It's design, both the body and interior. It does not quite suit me. Nissan Leaf is a hatchback. The line of the car, however, is in my opinion a bit too overdone. Similarly with the cockpit. Here too, I associate this modernity a bit with the design of the cockpit of a spaceship from the late 80s and 90s.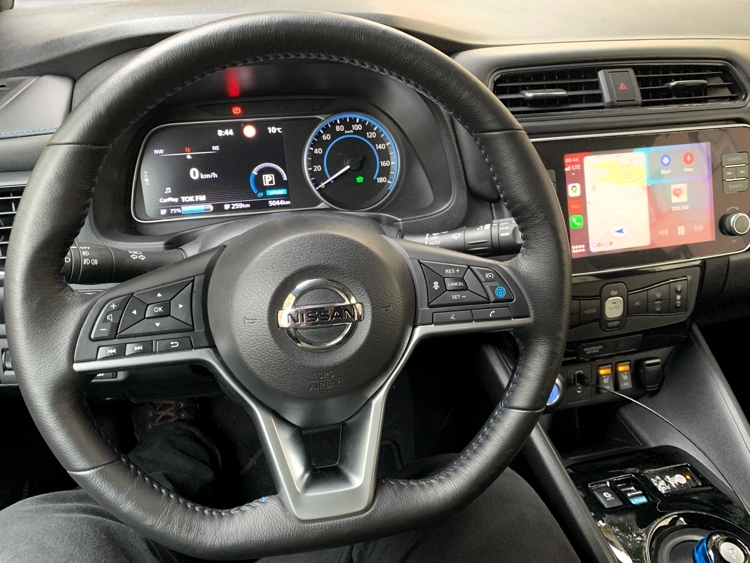 I mean, among other things, all the breaks and divisions of the dashboard panels, the shift lever and the main clocks, or actually a traditional speedometer (with a physical dial and pointer) combined with a large display. The information on it is displayed in a very clear way - much more so than, for example, on the beautiful virtual clocks in the new BMW, which, however, cause almost a nystagmus - but visually it looks a bit clumsy. That was my first impression. However, I quickly got used to it, especially when I appreciated the comfort of the cockpit and interior, not to mention the ride itself (as I wrote above).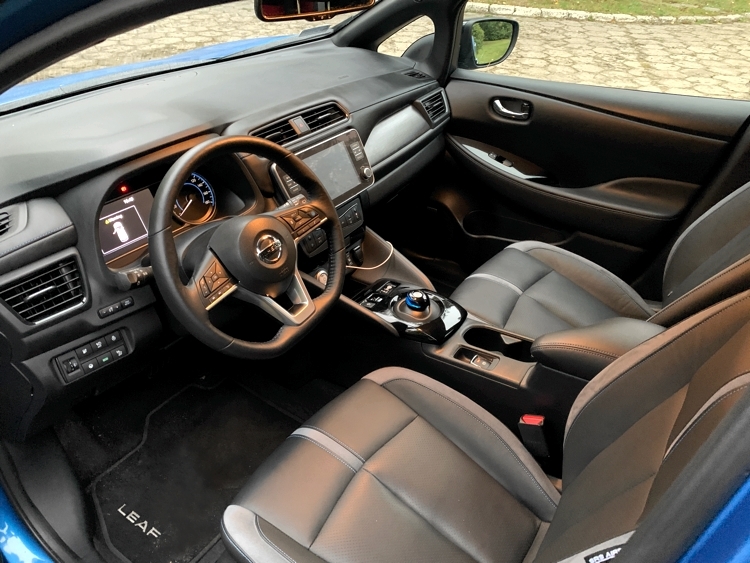 Inside is almost everything that provides comfort for both driver and passenger - very comfortable heated front seats and heated rear seat or heated steering wheel. There is no possibility to extend the steering wheel forward, which I was very surprised with, and CarPlay... is only after the cable, as in budget cars. I was also annoyed by one thing... setting the infotainment system screen. It is not aimed at the driver, but set straight ahead. It's really uncomfortable, especially when the sunshine is shining on it, then I couldn't really see anything on it.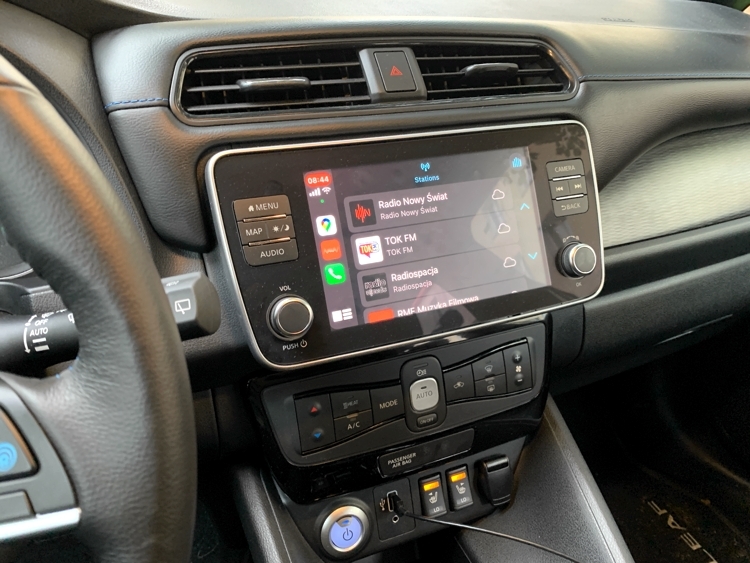 Those few things that annoy me in this car, however, are not able to make a very good mark. The car is spacious, comfortable, dynamic, has a great range for electric cars and at the same time it is attractive in relation not only to the BMW i3s and Mini Se described by me, but also cars with internal combustion engines. So far it is my favorite among electric cars that I have tested.