Since last year, Apple has been quite strongly focused on games available on almost all devices, i.e. iPhone, iPad, Mac and Apple TV. This is evidenced by the Apple Arcade service, in which, within the framework of a monthly subscription, users have access to a constantly expanding list of games. Currently, it is already 128 titles. There are a lot of games among them, which are more addictive for a longer time and which are much better played with the use of a controller. There are quite a few of them, and one of the brands that should be well known to players playing on Apple devices is Steelseries. A few weeks ago, the successor of the popular controller of this brand, Nimbus+, was released. I had the opportunity to test it intensively playing games not only with Apple Arcade on iPhone, iPad, Mac and Apple TV.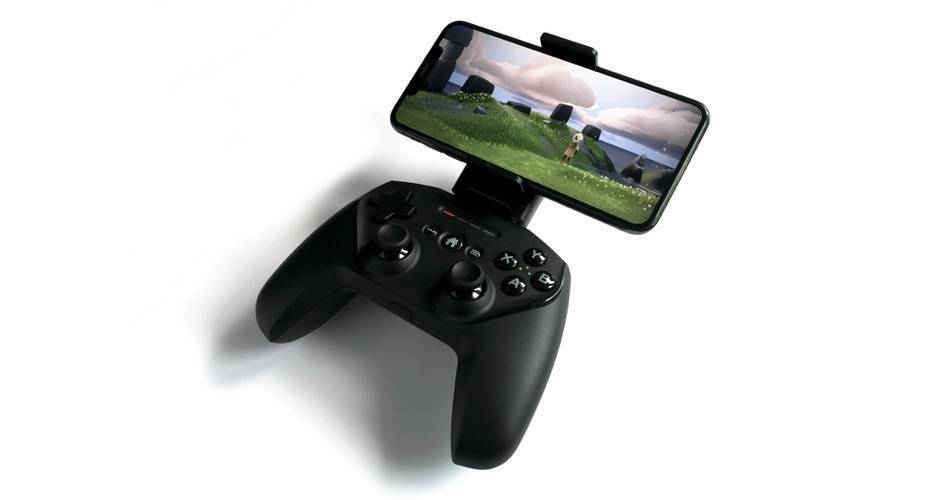 Steelseries Nimbus+ has a matt-finished plastic housing with a very good profile. It lies well in your hand and all the keys are conveniently placed under your fingers. In this respect, it is actually a classic design: two analog clickable joysticks (work like L3 and R3 buttons), and d-pad slanted over it (up, down, left, right buttons) and action buttons (X, Y, A, B), plus a set of two pairs of triggers operated with index fingers (L1, L2 and R1 and R2 buttons). In terms of the layout of the buttons and joysticks it is like a mix of what we know from the controllers to Playstation and Xbox. Also visually Nimbus+ is somewhere in between.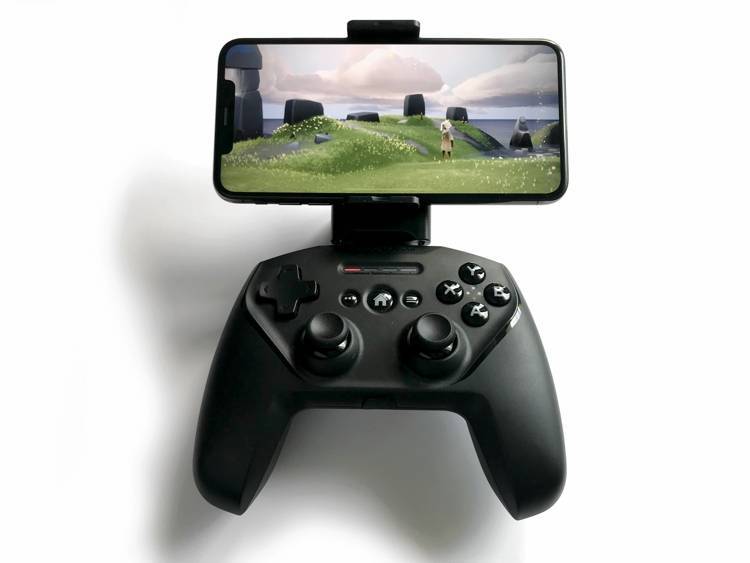 Between the d-pad and the action buttons there are function keys allowing you to return to the start screen or call a menu. Above it there is the device status and battery charge indicator.
An interesting solution is a special iPhone holder included in the set, which can be attached by means of special rods slid into two holes in front of the controller. Such a construction is stable but also much heavier, which makes your hands tired faster. In fact, after an hour of playing in this way I had to rest. On the other hand, it is very convenient if we are playing on the iPhone. We do not have to worry about where and how to set up the smartphone, this one is placed directly on the controller. Together with the controller it creates something like a portable console with the iPhone. What is important is that if you play on an iPad, Apple TV or Mac using the controller, you can unplug and put the said holder into the box.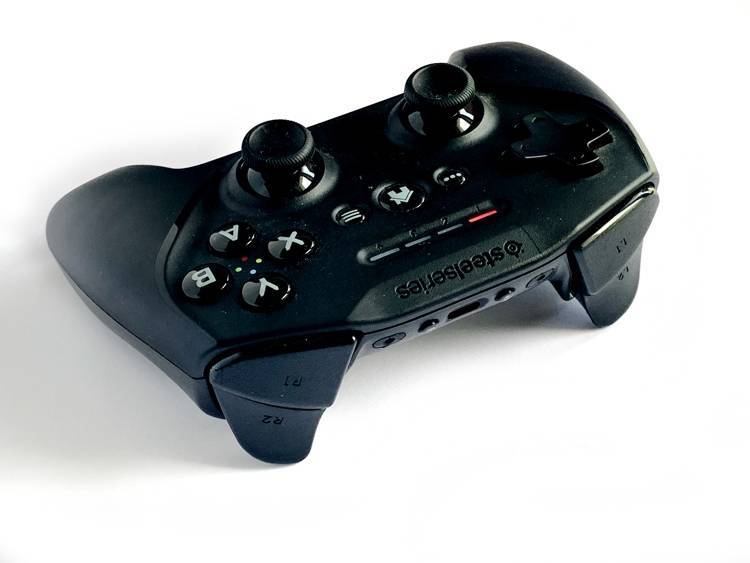 The Nimbus+ has a built-in rechargeable battery and is charged using a Lightning cable, which is the one you usually charge your iPhone or iPad with. For some people it will be an advantage, for others a disadvantage. It is worth remembering, however, that this is a controller designed for users of Apple devices, especially iPhone or iPad, so some Lightning cable should be found at home. On the other hand, iPaday Pro already has a USB-C connector and I would personally prefer to use this universal socket to charge this controller. What's important, Nimbus+ on one charge can work for up to 50 hours and actually this time is available. At home, playing on average one hour a day, we will charge it no more often than once a month, and if we take it on a journey, one charge is enough for us to have fun for the whole, even a very long journey.
The quality of workmanship, reliability (my old Steelseries Stratus controller still works flawlessly), the wealth of buttons, as well as very long battery life and the iPhone holder are undoubtedly the very advantages of the new controller. However, for all this you have to pay quite a lot, because 365 PLN. This is over 100 PLN more than the controller for Playstation 4, which also works with iPhone, iPad, Mac or Apple TV. However, Steelseries Nimbus+ offers an iPhone holder and much better battery life (up to 50 hours compared to 4-8 hours offered by the controller for PS4).