It's time for another trip to the land of great sounds, that is Scandinavia. I've already described the Swedish Audio Pro products on the pages of MyApple, it's time for the next one - Audio Pro Addon T3+ wireless speaker.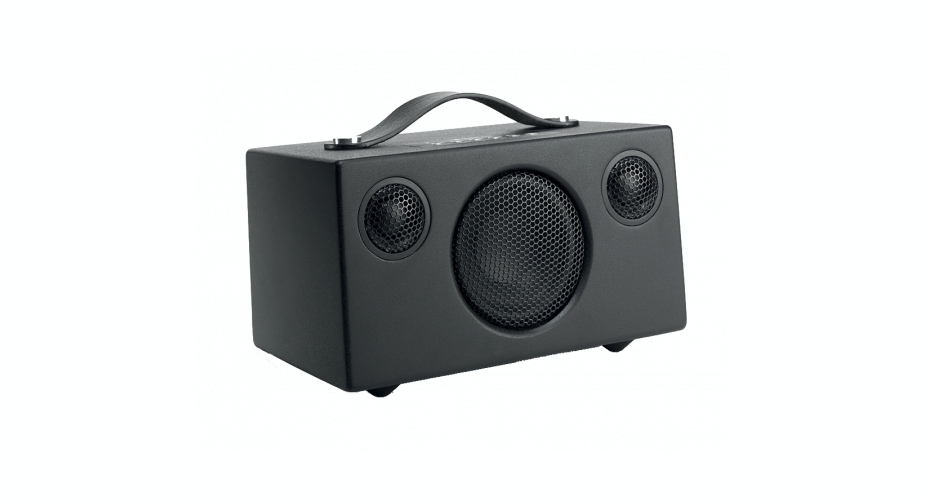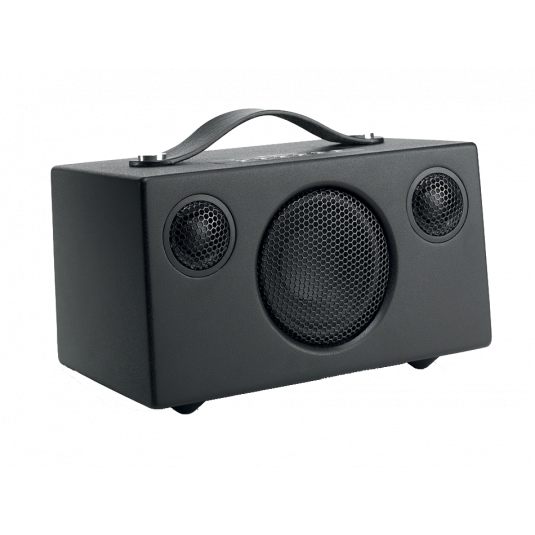 What's outside
The Scandinavians are famous for their minimalism, a good example of which is simple in form, but how beautiful this is the wireless Audio Pro speakers from the Addon series. On the pages of MyApple I have already described the Addon T5 model. T3+ is visually almost identical. It also has similar dimensions: 115 x 215 x 135 mm. So how does it look like? The device has vintage style. A simple box with a front without a grille on which three speakers are placed. On top there is an aluminum panel with control buttons and battery indicator and a leather handle. It should be mentioned that the Addon T3+ is available in two colors: black and gray.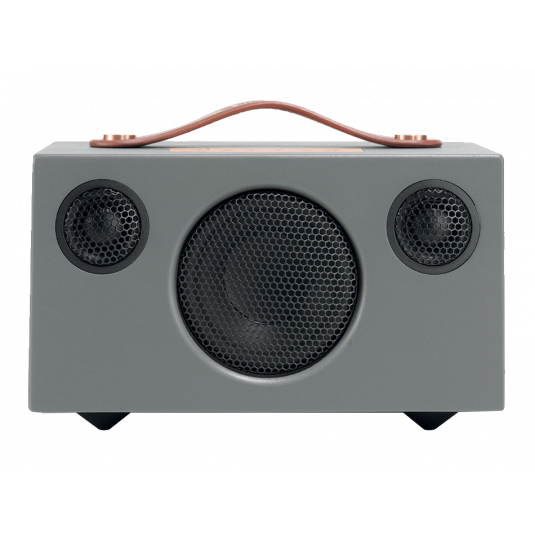 On the backside you will find a power socket, aux socket and USB-A socket for charging smartphones. On the lower surface there is a socket for exchangeable batteries. Audio Pro Addon T3+ is a real portable speaker - it can be moved and charged. And last but not least, the manufacturer allows for simple battery replacement.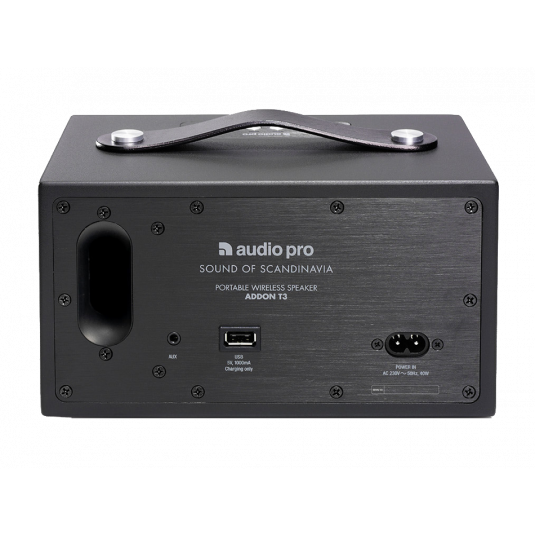 The battery
According to the manufacturer's declaration, the battery lasts for 30 hours at a volume level of 50% and for 12 hours at a maximum volume level of 100%. Swedes do not throw words to the wind. In fact, the loudspeaker worked on a single charge for approximately these declared 30 hours.
Operation
Just like the Addon T5 described last year, the operation of the Addon T5 is trivially simple. Pairing with an iPhone, iPad or Mac takes a short while. Just start the speaker and press the Pair button. To switch between the sources (bluetooth and aux) use the buttons on the top panel.
Sound
Inside was a Class D digital amplifier with 2 x 5 W for two 19mm tweeters and 15 W for an 89mm long pitch bass speaker.
Audio Pro Addon T3+ is able to play loudly for its size, so it can be successfully filled with the sound of a medium-sized living room. Its characteristics are very similar to those of the T5 described a year ago, but also to the larger Audio Pro D-1. The sound is therefore dynamic and warm at the same time. The bass is clearly marked and dynamic and the medium frequencies are fleshy. So I will repeat what I wrote during my review of the already mentioned Addon T5 and D1 models: guitars, bass vocals and drums sound great on it. I have the impression that the Audio Pro is not only about sound engineers but also about musicians, guitarists, drummers, bass guitarists, etc. who know what a guitar or bass amplifier sounds like or live drums. This makes it suitable for virtually any music genre, and the wings develop where you can hear guitars, bass and drums, both acoustic and connected to amplification.
Summary
The Audio Pro team is consistent. No compromises. The equipment is to provide the best possible sound, look great and at the same time cost relatively little. And so it is. Around $150 for a portable Bluetooth speaker, where instruments sound as they should, is a really small price.
Graphics: Audio Pro