Sweden has been associated with good sound for years and I don't only mean rock and metal music (for which, apart from Abba, this country is famous), but also music and audio equipment. I've been even more convinced of this in the last few weeks. I had a chance to test a set of active Audio Pro A26 speakers with multi-room function.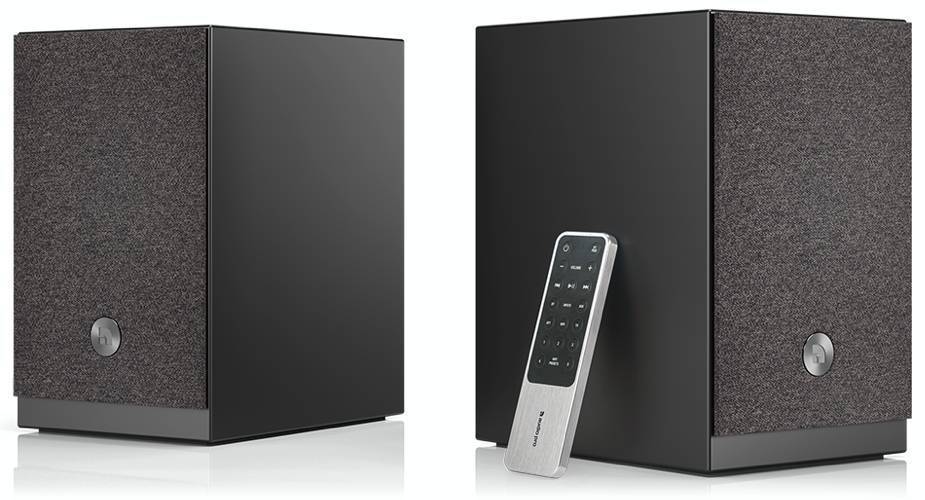 Design
Swedish, or more broadly Scandinavian audio equipment has a minimalist design. It is no different in the case of the Audio Pro A 26. The speakers will fit perfectly into any environment. They look very good both on the chest of drawers and on the shelves between books. Thanks to relatively small size (150 x 238 x 200 mm) I had no problems with finding a place for them and proper positioning.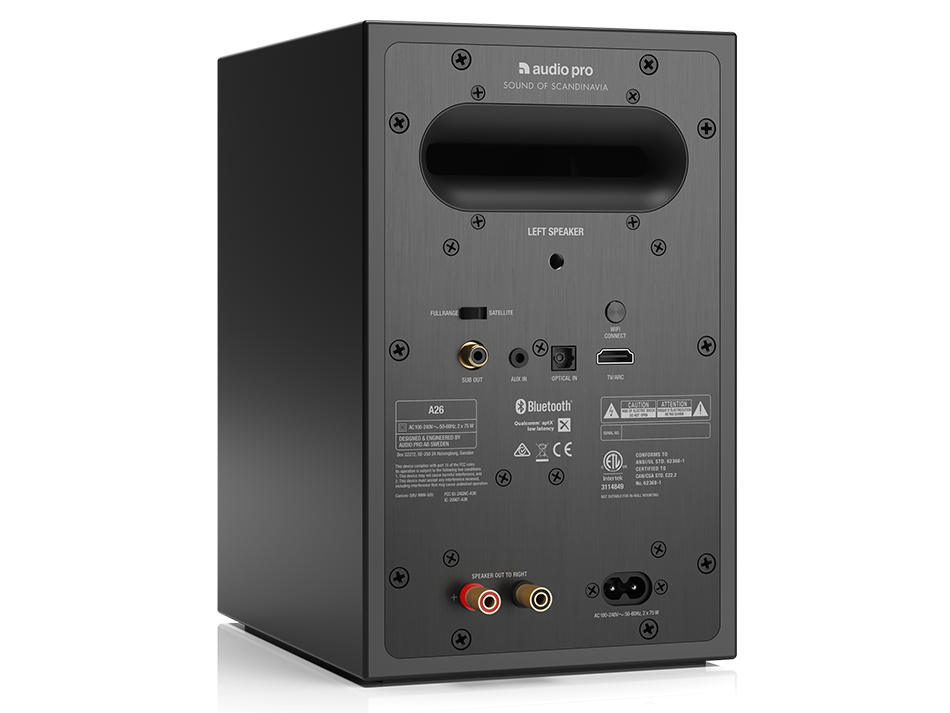 I had a chance to test the model in black color version. The speaker boxes have a nice matt finish and material grille, which is kept stable in place by means of magnets (more and more common solution).
The remote control looks phenomenal. It has a small size and quite simple functions (volume control, playback control, source selection or WiFi network). However, it is embedded in a large size bar of brushed aluminum. The underside of the bar has a black sponge veneer which protects the remote control against accidental dropping from the bench or chest of drawers and improves the comfort of holding it in your hand.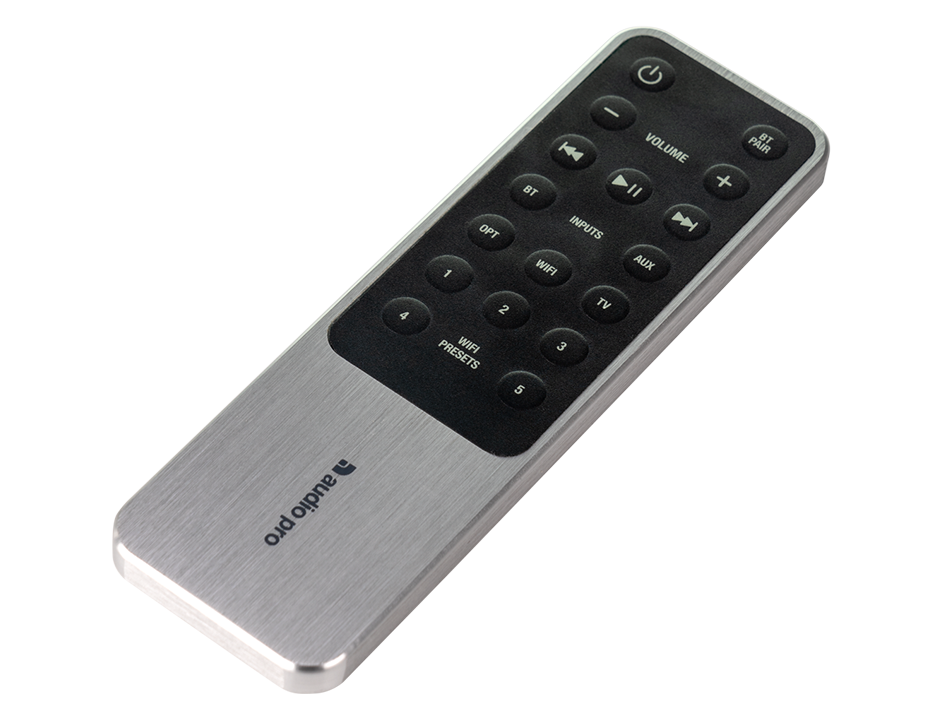 Communication and usability
As in other active sets, one of the speakers contains an amplifier, ports and wireless module, and the other one is traditionally connected to it with a speaker cable.
So, on the back of the left speaker is located:
analogue audio input - mini jack

digital optical audio input, to connect a CD player, Blue Ray etc.

HDMI input - possibility to connect a TV.

RCA output for subwoofer connection

The device, of course, also connects to the sound sources wirelessly - which is undoubtedly a great advantage. And so the user can use Bluetooth 5.0 with the APTX Low Latency codec and a WiFi connection. The latter opens the doors of the multiroom and gives access to many services offering music on demand or Internet radio stations, including Spotify, Tidal, Deezer, iHeart Radio, qobuz. These services can be accessed directly from the Audio Pro Controller application, which also serves to configure the speaker and control all Audio Pro devices within the multi-room system. As befits such a system, an apartment or office can be divided into zones and different music can be played in them from one application.
Of course, thanks to AirPlay support, you can easily send music from the Apple Music app running on any Apple device, be it a Mac, iPhone, iPad, iPod touch or Apple TV.
Audio Pro A26 speakers also support Amazon Alex's assistant. Simply set it up on your smartphone via the Audio Pro Control application and you can communicate by voice.
Let me also mention the switch on the back panel, which allows you to switch the speakers to satellite mode. It is especially useful when you connect an additional subwoofer to them and activate Virtual Surround mode. You get a really good home theater set.
Sound
The left cabinet hides a 2 x 75 W amplifier. In turn, in each of them there is a 114mm bass-midrange speaker and 25mm tweeter, at the back there is a tunnel outlet of the bass reflex system. The speakers offer a frequency response of 45 Hz to 20 kHz.
The power and dynamics, which these small speakers have, was a surprise for me. The sound is very plastic, one would even like to walk on a solid bass base produced by a bass guitar and drum foot (bass drum), grasping the solid and clear sounds of keys, guitars and vocals. All this with a uniformly distributed dynamics across the entire bandwidth, without any unforeseen or unpleasant additions, and with the right amount of air. With a good setting the Audio Pro A26 speakers also create a very good scene. This is an undoubted advantage of a stereo speaker set over a single speaker.
Thanks to the HDMI input the speakers are also great for watching movies or playing games. As in the case of music, the reproduced sounds are characterized by high dynamics. Watching movies with connected Audio Pro A26 speakers is a pure pleasure, and it may be even better if we add the aforementioned subwoofer to the set and activate Virtual Surround mode. The A26 is an alternative to such popular soundbars. When watching movies it works equally well and outclasses them when it comes to listening to music.
A stylish home audio and video center
Audio Pro A26 is a great choice for people who are looking for a small but great sounding stereo, and who would also like a home theater without compromising on the soundbar. Thanks to the possibility of connecting to them "by cable" traditional audio sources, as well as a TV set (via HDMI) and - via Bluetooth or WiFi - many other devices, this set is an extremely universal home audio-video center. Over the past weeks not only my TV or several iPhones have been connected to the speakers, but also my MacBook and iPad.
Thanks to its small size, great sound, wireless communication with the multi-room system and HDMI input, this set is a universal solution that does not require the user to accept any compromises.
Photos: Audio Pro