It is not an art to buy a very expensive TV. It is definitely more interesting in the middle price range, the one available to virtually all customers. There is more going on here and the differences in quality are also significant. One of the important players on the market is TCL, whose latest 55-inch 55EC78 TV I had the opportunity to test recently.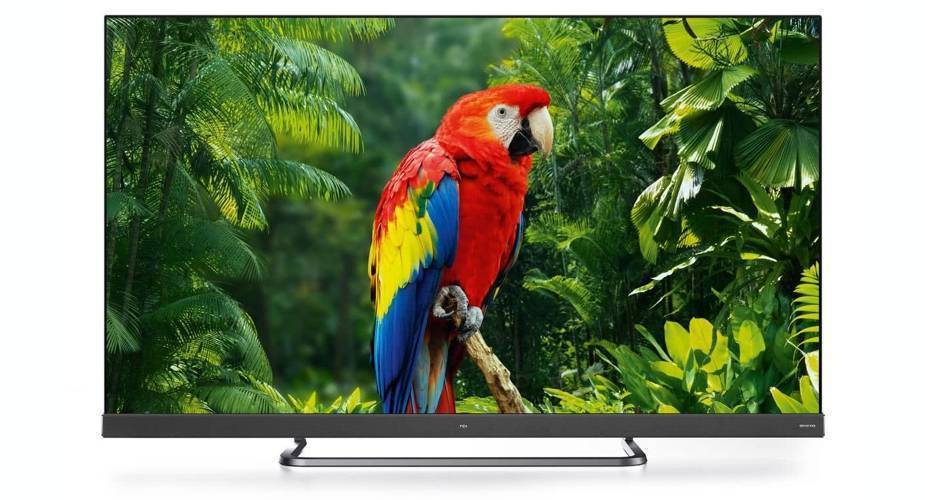 What's on the outside
TCL has long attached importance to the quality and appearance of its televisions. I see this every year at the Berlin IFA, where I always visit their huge stand. This attention to quality, details and appearance can probably be seen best in the television I'm testing. The device looks great. It has a thin metal frame - thanks to which the screen takes up almost the entire front of the device. Underneath it there is an Onkyo soundbar, which fits well with the device, although it clearly shows its distinctiveness (the frame around the screen is black and the soundbar has a grey masking). I write more about the soundbar itself below. The device is based on a nice openwork leg (combined of three elements), which makes the TV set seem light and suspended in the air.
The sockets are conveniently placed on the sides of the device. So you don't have to reach on its back, turn it upside down hard, which is often just awkward. In this case, all ports are hidden on the right side behind the frame (looking from the front) and the power outlet on the left. There are three HDMI ports supporting 4K resolution of course, two USB ports (allowing you to connect e.g. an external disk with a movie library), a LAN port (to connect your TV to the network), optical digital output, terrestrial and cable TV sockets and a headphone jack.
Remotes
When I was testing LG and Samsung TVs in recent months, I encountered a completely different approach to the topic of remote controls. The ones attached to the TVs of the first mentioned manufacturer were very functional, but also large and plastic. Samsung's remote controls, on the other hand, were minimalistic, but controlling them was not that easy. In the case of the TCL 55EC78 TV, the user has a choice - he gets two remote controls in the set. One is simple, with a metal casing, and the other is plastic with a full set of buttons. On both remote controls there are buttons for quick opening of Netflix application. The smaller of the remote controls also has a button to activate voice control.
It's just a pity that these remote controls can not be configured to work with cable TV set-top boxes or Apple TV (or at least I did not succeed).
Android TV 9.0
TCL has long decided to use a ready-made and open solution, which is the Android TV system. The 55EC78 TV has its latest version installed. Anyone who has had a chance to use the newer Android appetisers (e.g. Play TV Now and Flix TV Box or Xiaomi appetisers described on MyApple) will find themselves there without any problem. It should also be quickly taken over by other users. However, it is worth mentioning that the navigation in it looks a little different than in smart TVs of other manufacturers. Everything is based on the main vertical menu, located at the left edge of the screen, and the tile of applications, proposed content or TV channels, which occupy a major part of it.
The biggest - in my opinion - advantage, but a bit and a curse of Android TV is its openness. In Play store you can find a lot of different applications, from all kinds of players (KODI), through dedicated applications of various VOD services (like Netflix, HBO GO, Prime Video, Filmbox Movie and others), TV stations (like France24), to even games. However, these are quite simple games (e.g. new version of Pac Man). The problem is unfortunately the quality of these applications. Some of them work flawlessly, others work in a checkbox (e.g. the already mentioned France24 application), and some of them fall out at all. It's not the TV's fault, but rather the fact that Google doesn't control what's in the Play Store (I had the same problems with these apps on the Android TV set-top box added to Play TV Now). Of course, in the store with apps for Android TV you won't find Apple TV apps either. I hope that the company from Cupertino will finally open up more widely, including this competitive platform.
The Android system works smoothly on this TV, sometimes there is a slight delay in the response time to a button press on the remote control (e.g. when switching signal sources). So small that I didn't feel annoyed because of it, it didn't spoil the pleasure of using this TV and its system.
Screen
The VA matrix is characterized by a very good contrast and black much better than IPS screens, although obviously not as good as in OLED screens. Additionally, in dark scenes, the image is dimmed to some extent to get even better effect. Black is so good that watching movies after dark is really enjoyable - although of course the dark or even black parts of the picture do not merge with the frame of the TV itself.
55EC78 offers support for virtually all HDR standards, including HDR10+ and Dolby Vision. The generated image is bright and the colors are saturated, thanks to the support of a wide color palette (WCG), among other things. The TV also has a function of smooth playback of movies shot in 24 frames, so there is no effect of jumping the image every few seconds.
It is also worth mentioning that TCL is designed to meet the needs of players. 55EC78 is characterized by low so called "input lag". For several weeks of testing, we often played the latest titles on the connected PlayStation 4 - and in fact the TV worked very well in games.
Sound
Speakers mounted in TV sets usually play better or worse, however, manufacturers assume that the user will still get a suitable soundbar or home theater set. In the case of the TCL 55EC78 TV set, the soundbar, and that of ONKYO production, is its integral part. The sound is wide, with a relatively even bandwidth - maybe a little more holes would be useful, but it is still much better than in TV sets equipped with standard, rear mounted speakers. The integrated soundbar works well for both movies and music that I played on a TV with Apple Music on a connected Apple TV - of course, users of e.g. Spotify can install an appropriate application.
Summary
As you can see, in the middle shelf you can find a 4K TV with a very good screen and equally good picture quality (wide WCG color palette, good black and liquefaction) and low latency (input lag), additionally equipped with a soundbar, which will be appreciated by fans of films and series as well as games. TCL shows how this can be done.