I have already written several times about the keyboard in the new MacBooks Pro or 12-inch MacBooks. It's not only about the dust and dust resistant or different particles resistant butterfly mechanism of the keys, which I preventively blow with compressed air every week, but also about the size of the keys and their jump. Large size and small stroke make typos happen to me much more often than other keyboards, not to mention unbreakable spaces, inserted by accidentally pressing left CMD together with Space (I'm a freak who has been changing ALT and CMD keys since the beginning of my adventure with Macs). No wonder that for some time I've been looking for an optimal keyboard where I could write longer texts. In recent weeks I had a chance to test another Logitech product, the universal wireless keyboard Craft.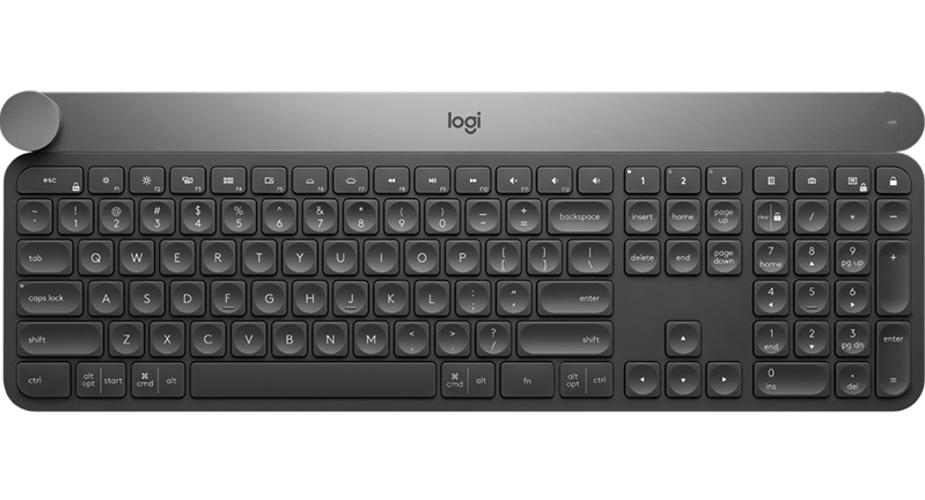 I think Logitech doesn't need to be introduced, it is famous for its great computer accessories, and certainly for its mice and trackballs. It also offers a relatively wide range of keyboards. Craft is one of the most expensive models, not only because of its design, but certainly a special universal knob, allowing you to adjust various parameters or control one of the functions in your system or selected program.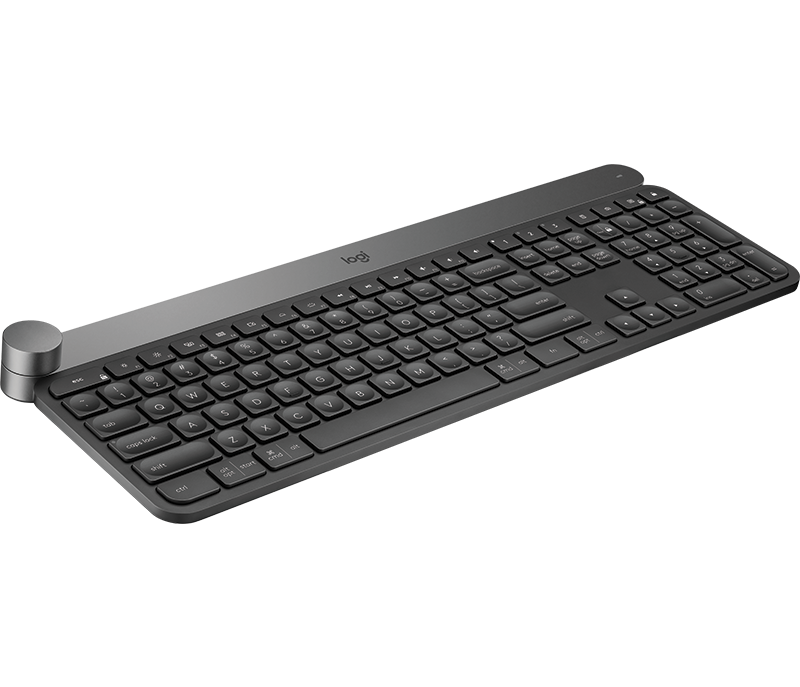 It looks great. Maintained in two dark shades of grey, combining strong plastic with an aluminum strip on the right keyboard looks great. The keyboard is heavy so it lies stable on the desk where I put it. The keys are quite big, but not as big as in the already mentioned MacBook Pro keyboard, they also have much bigger stroke (even bigger than in older Apple island keyboards), so it is much less common for me to press one of them accidentally. I'll also add, that the keys are concave and their form reminds me a little bit of the keys in ZX Spectrum +, although of course they work incomparably better (I'll remind you that it's not the first time the Logitech keyboard reminds me of the one in the mentioned computer from the early 80s of the last century - this was also the case with the K480).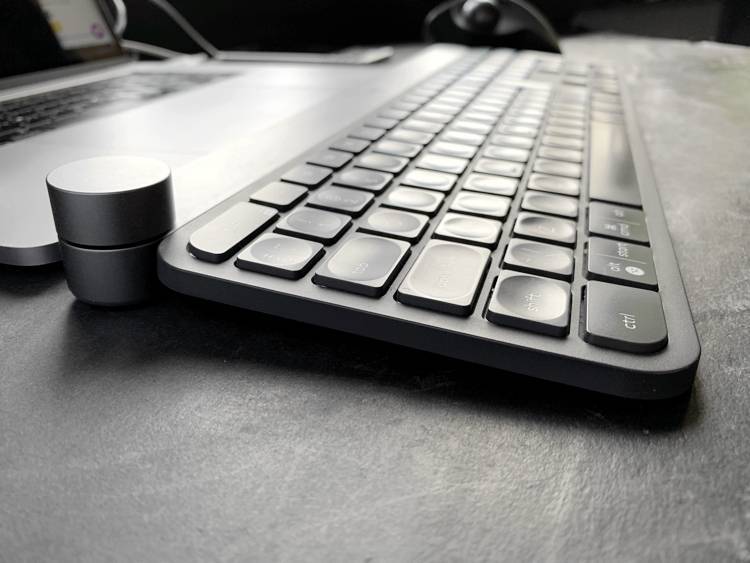 Initially I had to get used to this bigger jump. Fingers have to hit harder and move further than in case of the keyboard in my current computer. The whole keyboard is also slightly slanted. It reminds me here a little bit of the wired Apple A1243 keyboard, although it is larger than it is and it is also more massive. You write on it very comfortably and actually without any mistakes.
The keys are illuminated with white light, which is useful when working at night. On the big plus I also receive a block of numeric keys and cursor control. Especially the latter one, with separate full-size keys of the direction of moving the cursor I appreciate very much.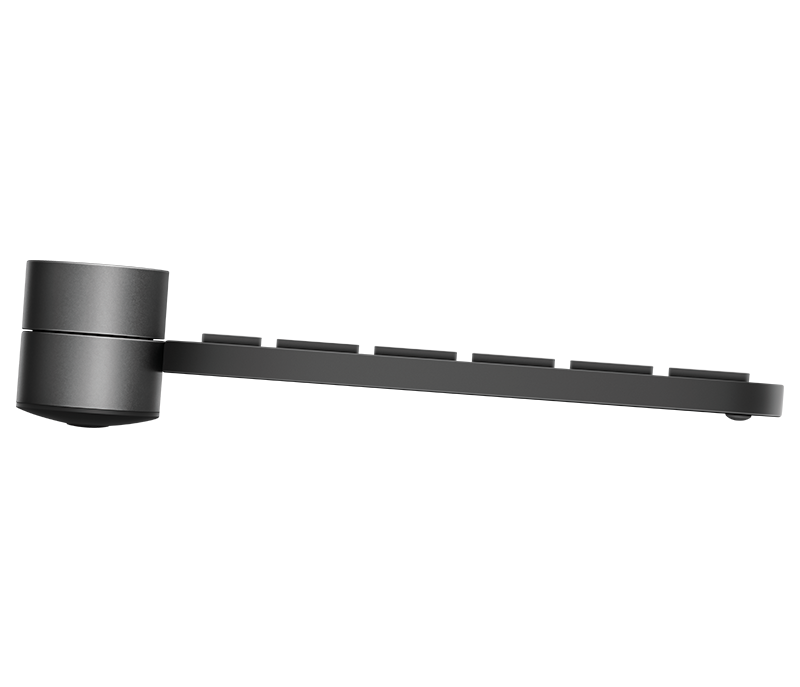 The keyboard was created for both Windows PC and Mac users. Unfortunately Polish users of the latter introducing Polish diacritics with right ALT will have a big problem. The right ALT has been separated from CMD with an additional and wide FN key. Quick introduction of Polish diacritics is simply impossible. As I've already mentioned, I don't have a problem with that, because for over ten years I've been swapping ALT and CMD keys (initially I did it with an additional application, and later directly in the system settings). In my Macs the functions of ALT and CMD keys are swapped places, so that I can enter Polish characters quickly and without too much bending my thumb. Many of my Mac users' friends get totally lost when switching to one of my MacBooks for a while, but in my case this conversion works great, as you can see also on Logitech Craft keyboard. My ALT is always next to a space.
I'll just mention that in order to swap ALT and CMD keys I have to connect this keyboard to my computer with a special radio receiver. When I connect it via Bluetooth there is no such possibility. The keyboard allows you to connect up to three devices at the same time and switch between them using the keys located above the cursor control key block (1, 2, 3). Built-in battery is enough for a few days of work. Charging is done through the USB-C connector, which I see as a big plus. I have less and less devices charged via microUSB or traditional USB-A. It is only a pity that the already mentioned small radio receiver is still only available in USB-A version, so I have to use an adapter or a hub connected to my MacBook Pro.
Craft is not only a keyboard but also a control knob. I have met with different opinions about it. In my case, however, it works great, but remember that depending on the program you are currently working in, its function will be different. And so in macOS or iTunes and programs that do not use this knob, you can use it to adjust the volume, in Safari to switch between open cards. I just miss the support for a few popular applications like Pixelamtora. I suspect, however, that this depends mainly on the developers of those applications, not Logitech. The knob itself works great, but it can't replace Touch Bar, which I use intensively on my MacBook Pro.
Logitech Craft is one of the best keyboards on the market, although certainly not for Polish Mac users, unless, like me, they replace ALT and CMD keys. If you write a lot on a Windows or Linux computer and you are looking for a stable, comfortable and reliable solution, Logitech Craft is definitely worth considering. Apart from the mentioned fatal location of the right ALT and FN key, the biggest disadvantage of this keyboard is its price of about 700 PLN. This is a lot, but good quality is not cheap.