A few months ago I had a chance to test and describe a set of active multi-room Audio Pro A26 speakers. This Swedish brand has a lot more in its offer, especially one speaker caught my attention - looking like the head of a 1960s guitar amplifier model D-1. The association with the head of a guitar amplifier is not accidental. The D-1 can be part of the Drumfire set with a large subwoofer. Such a set could easily be placed on stage next to classic amps. So how does it look up close, and how does the multi-room Audio Pro D-1 speaker play? You will find the answer below.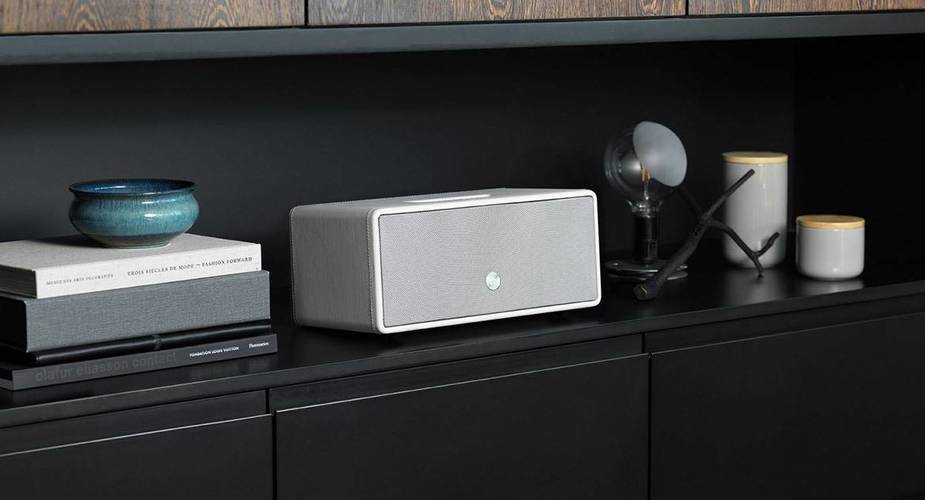 Design
I started this text by comparing the appearance of the described speaker to a classic guitar amplifier. The association is clear. The device is large and heavy, as befits a good class amplifier and speaker. Its dimensions are 155 x 365 x 190 mm. The cabinet has a very nice finish in ecological leather with characteristic stitching - just like the music equipment (guitar amps or cases). I tested the white version, but there are also versions in grey and black.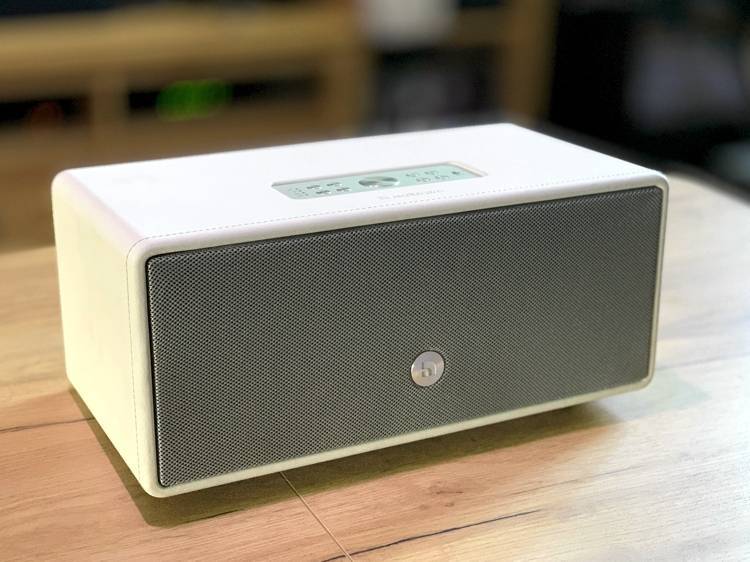 The front of the speaker is covered with a fabric with a pattern also unequivocally associated with classical guitar amps. The only element that can be found on the front wall is the Audio Pro logo. On the upper surface, in addition to the logo and brand name embossed in ecological leather, there is also a panel made of brushed aluminum with control keys (also aluminum), AUX IN socket and four LEDs indicating the operating mode (WiFi, BT, AUX, Line). There is a central button for volume control, start and stop, source selection, Bluetooth pairing, stand by, as well as four programmable keys to quickly call the appropriate presets in a dedicated application for iOS.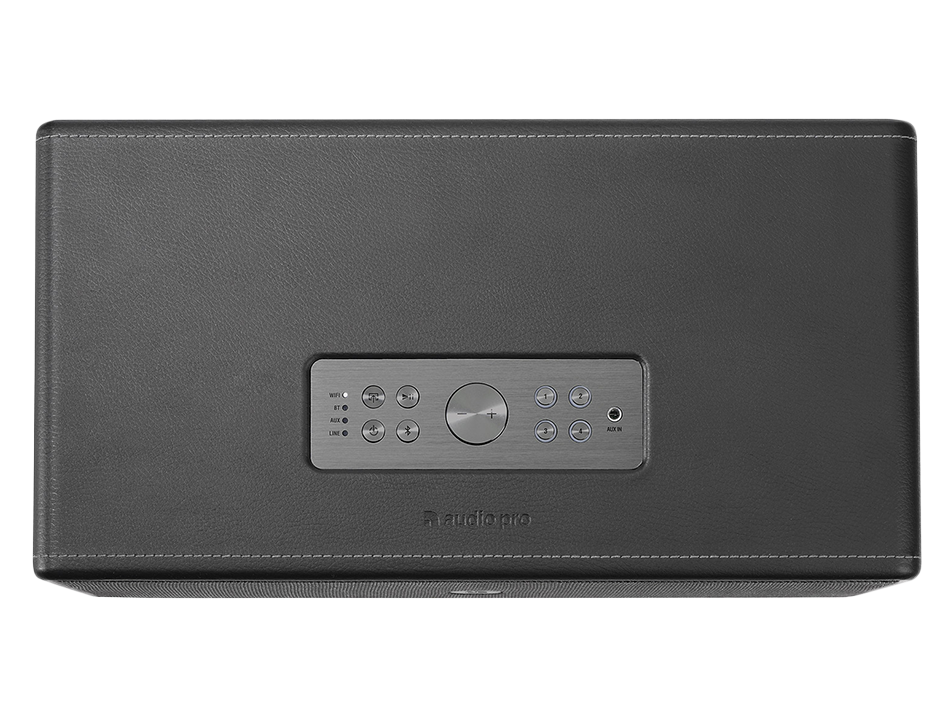 On the back panel there are sockets for power supply, Ethernet (the speaker can be connected to the router with a cable), RCB (chinch) socket for connecting an external line source (e.g. turntable or CD player) and a subwoofer output, which is the second element of the Drumfire set.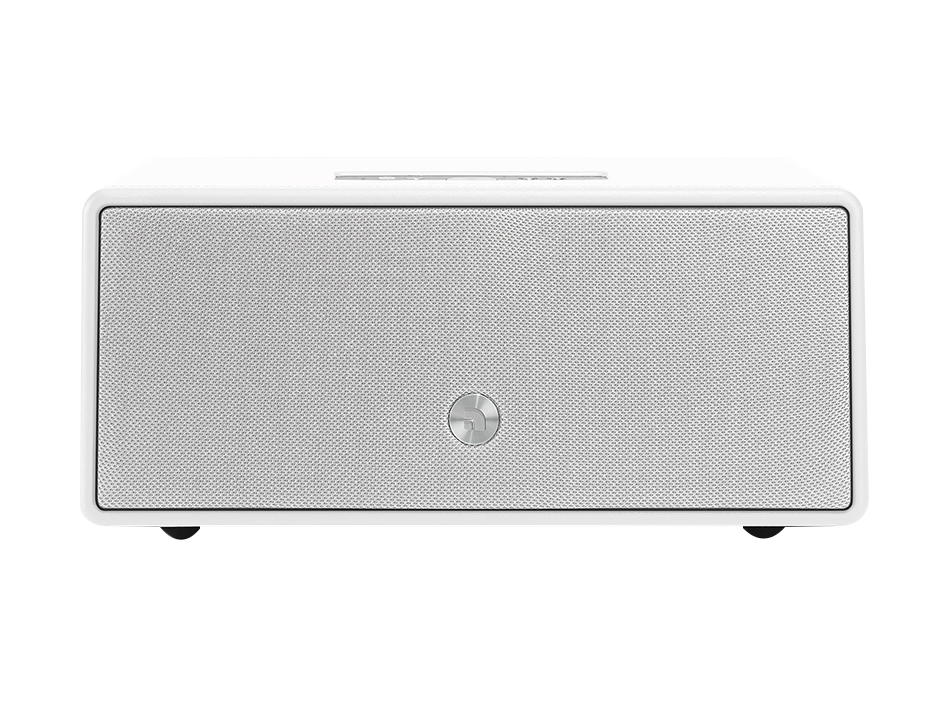 How to connect
The Audio Pro D-1 supports AirPlay when connected via WiFi or via cable directly to the router, so you can send music directly from Apple Music on your iPhone, iPad or Mac. In this case Audio Pro will only be useful for setting up the speaker and connecting it to a WiFi network. You can forget about it later on. The connection itself is simple and fast. You can do it using Bluetooth or by connecting to the wireless network created by the speaker. All you have to do is to enter the login data for this appropriate home WiFi network and you are done. The speaker will be visible both in the application and in the AirPlay menu.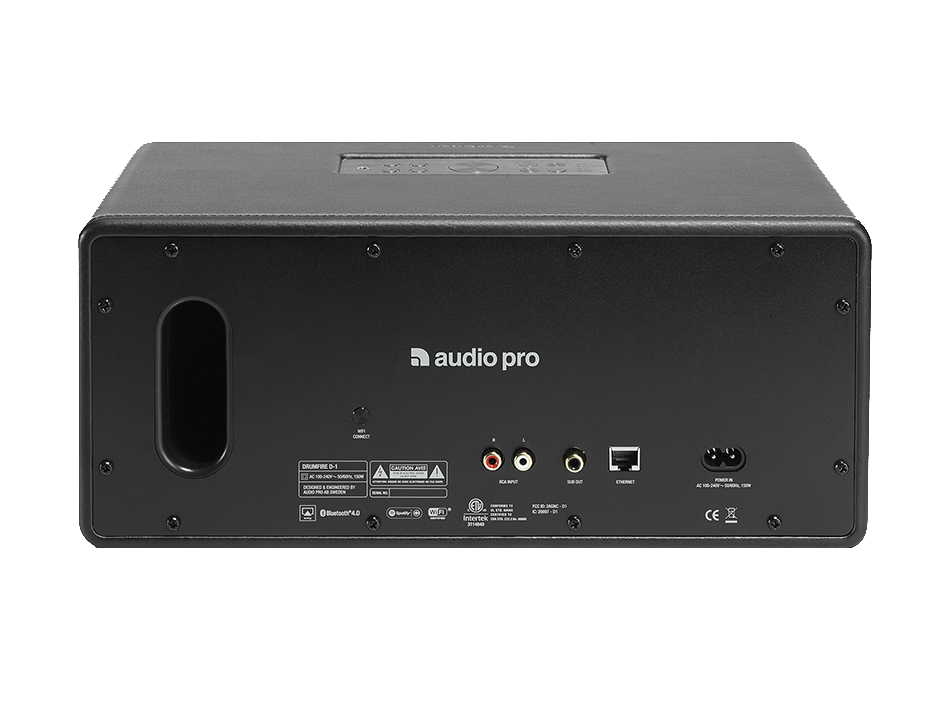 Of course, the application allows you to play e.g. radio stations from iHeart Radio, TuneIn or music directly from such services as Spotify, Tidal or Deezer. The speaker and the application also support Amazon Alex's assistant. So you can give him commands by voice, which is also convenient.
The sound
The visual association of this speaker with the head of a classical guitar amplifier from the 60s is not accidental, as is the design itself. The speaker is perfect for listening to rock music, with a large dose of guitars. Whether it's Dream Theater, Marillion, Rush, Iron Maiden, or AC/DC, the sound is plastic, and the guitars sound as if Audio Pro wasn't just a multi-room speaker, but a guitar amplifier to which a paddle is attached, played by John Petrucci, Steve Rothery, Adrian Smith, Alex Lifeson or Angus Young. A lot is happening not only in the subject of guitars, but also keys, vocals or bass guitar. Drums also sound very good. The loudspeaker can even handle productions which are nowadays very archaic (e.g. the Reggatta de Blanc album by The Police, where Sting's pulsating bass and Stewart Copeland's drums attract attention). All this while maintaining appropriate proportions and space, thanks to which even small nuances and tastes can be heard. I will also mention that inside there are two 25mm tweeters with a textile dome and two 114mm long pitch woofers. The whole is driven by a Class D digital amplifier, 2 X 20 W + 60 W. I must admit that I have a huge appetite to test the full set of Drumfire, which is the speaker just described together with the attached subwoofer.