Devialet Phantom Reactor 900
Among home audio systems there are many speakers and devices that stand out for their sound and original design. However, all of them seem to be boring and commonplace with Devialet devices. Devialet Phantom speakers look like products of alien civilizations, taken out alive from such SF cinema classics as "2001: Space Odyssey" or "Alien". I have been waiting for a long time for an opportunity to test them and finally an opportunity has come. A few weeks ago I received a Devialet Phantom Reactor 900 speaker in matt black finish for testing.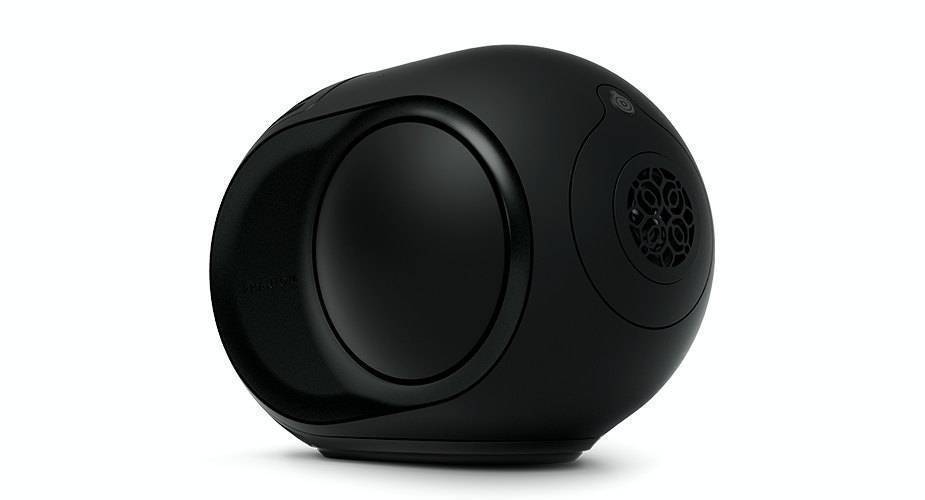 The recently introduced Devialet Phantom Reactor speakers are a great proposition for people who want to enjoy the quality of sound and design offered by the products of this brand and who have a slightly smaller (although still substantial) budget and much less space to set up larger Phantoms, for example for me (I would have a problem with setting up large Phantoms in my living room).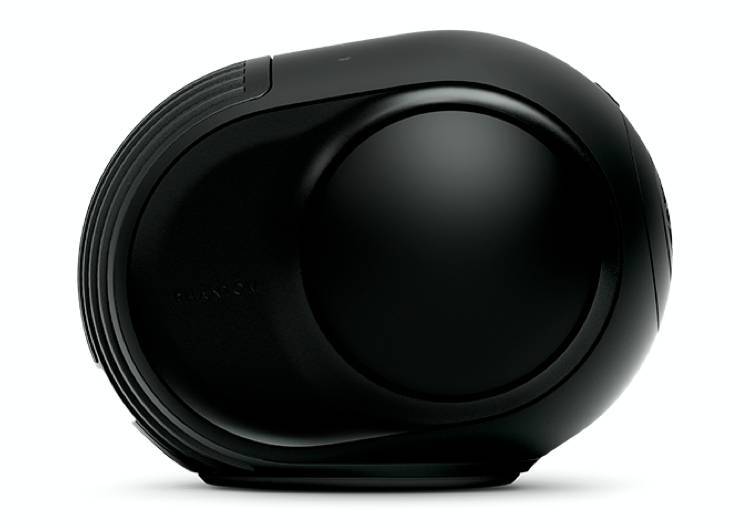 What's outside
As I mentioned at the beginning, I tested the Devialet Phantom Reactor 900 speaker with black matt finish. The device is comparable in size to other multi-room home speakers - 219 mm (length) x 157 mm (width) x 168 mm (height). However, there is no typical body like other speakers. It reminds me of the head of an extraterrestrial creature, sometimes evoking associations with the works of Hans Giger. The large dome of the bass speakers placed on the sides resembles huge eyes, which together with the tweeter placed centrally and facing forward create something like a face. The heat sink placed at the back, on the other hand, resembles hair. I will only mention, that the speaker is also available in a glossy white finish, in which it looks equally cosmic. In this case, however, it evokes associations not with the protagonist of the "Alien" series, but rather some element of the set design from Stanley Kubrick's film "2001: The Space Odyssey", already mentioned at the beginning. In both cases the loudspeaker catches the eye with its incomparable (except for the bigger Phantoms) appearance.
Devialet Phantom Reactor 900 stands stable on a relatively small foot. It can also be mounted on the feet (the appropriate threaded hole is on the bottom). However, with relatively small size the speaker is very heavy. Its weight is 4.3 kg. It is by no means a portable speaker. It should be placed in a chosen place and connected to an electrical outlet.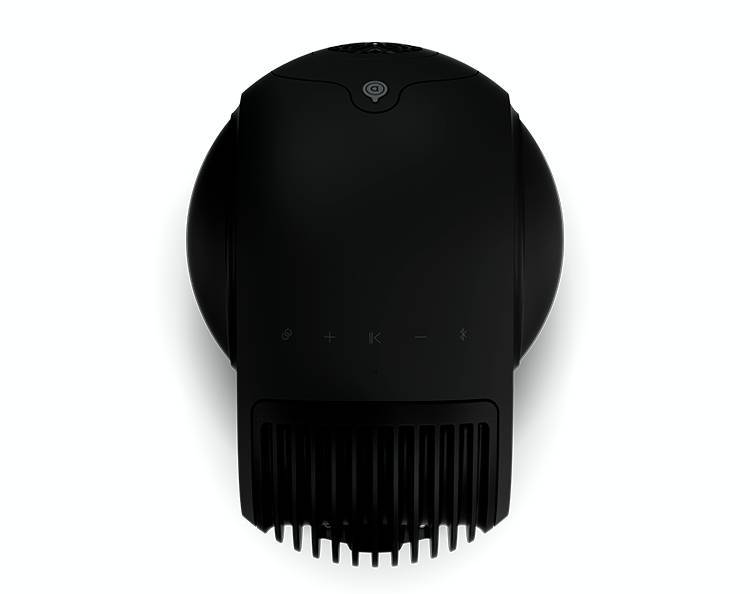 On its upper surface there are five touch buttons for adjusting the volume of sound, controlling the playback, selecting the connection and pairing during configuration with a dedicated application for iPhone or Android smartphone. On the back, under the aforementioned heatsink, there is an Ethernet jack (to connect the speaker to the local network router with a cable), a hybrid mini jack and a Power button (the speaker can be switched off without disconnecting it from the power supply) placed next to the power outlet.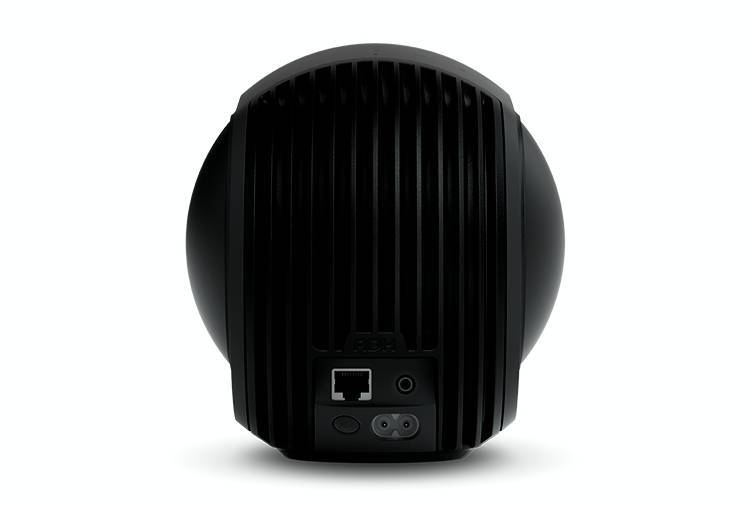 Sound
Devialet Phantom Reactor 900 has not only an amazing look, but also the design (981 elements in total) and sound. I must admit, that I have not yet heard such a clear and dynamic sound generated by such a small device. It is worth mentioning, that at 900 watts the speaker can play very loudly without any distortion (frequency response from 18 Hz to 21 kHz). One such device can successfully sound a large living room, offering such levels of intensity that it is also suitable for a larger party (the so-called house).
The speaker is equipped with a hybrid analog-to-digital amplifier, Hi-Res 24bit / 192kHz digital-toanalog converter and Speaker Active Matching system, which is responsible for preserving the finest details and nuances even when turning the volume up to the maximum (although in a small living room it is definitely too loud anyway).
But how does it sound? For the first time it will probably be difficult to express it in words. The sound reproduced by this speaker is extremely plastic and wide. I have an impression that inside there is not electronics but a live band with powerful and well-publicised drums, guitars, a big bass power plant (as we sometimes call a high set of speakers and a bass amplifier), a vocalist or singer, and sometimes a whole choir.
Impressions do almost everything here. So there is a very deep and dynamic bass that, depending on the type of music and expression, is either strong and clear, or in more lyrical tracks, especially in the progressive year, electronic music becomes an energy that fills the listener almost to the guts and marrow, which sometimes simply feels more than he can even hear. Thanks to the HBI system - Heart Bass Implosion - the reproduction by the loudspeaker of frequencies so low that they are beyond the range heard by humans, bass is a ground that could almost be walked on like the ground. The sound in the midrange with clear vocals as well as keyboard and string instruments is also very impressive - mainly guitars in rock, metal or the already mentioned progressive rock, all the flavors of the background, nuances as well as the very clear sound of the upper frequencies.
The loudspeaker sounds good in almost every place where it is placed. At my place it changed the place from a chest of drawers through a desk to a bedside table. Everywhere the sound was amazing. The ACT (Active Cospherical Engine) system, which is based on the principle of Olson's pulsating sphere optimizes the way the sound is created and propagated.
I must admit, that the appetite grows with eating and I hope to be able to test a pair of these speakers in a while. They can be combined with each other.
Connectivity
There is also nothing to attach to here. The speaker can be connected to the home network via both WiFi and network cable. You can also connect to the sound source via Bluetooth. Of course Devialet Phantom Reactor 900 supports AirPlay, so you can stream to it directly from the Music app from almost any Apple device. It also supports UPnP and Spotify Connect. There is also an analog and optical input (the aforementioned hybrid mini jack socket). The iOS application helps with the configuration.
Summary
Devialet Phantom Reactor 900 is a device that stands out in every respect, from the cosmic appearance, design to the plastic and very dynamic sound. Among small size speakers it seems to be one of the best designs on the market. I must admit that after a few weeks with Devialet Phantom Reactor my world will certainly not be the same as before, at least when it comes to audio equipment.
Graphics: Devialet