Bowers & Wilkins Formation Flex
In September last year in London, Bowers & Wilkins presented a number of new products, including the latest addition to its wireless multi-room high-res system - the speaker Formation Flex, which soon afterwards came to me for testing.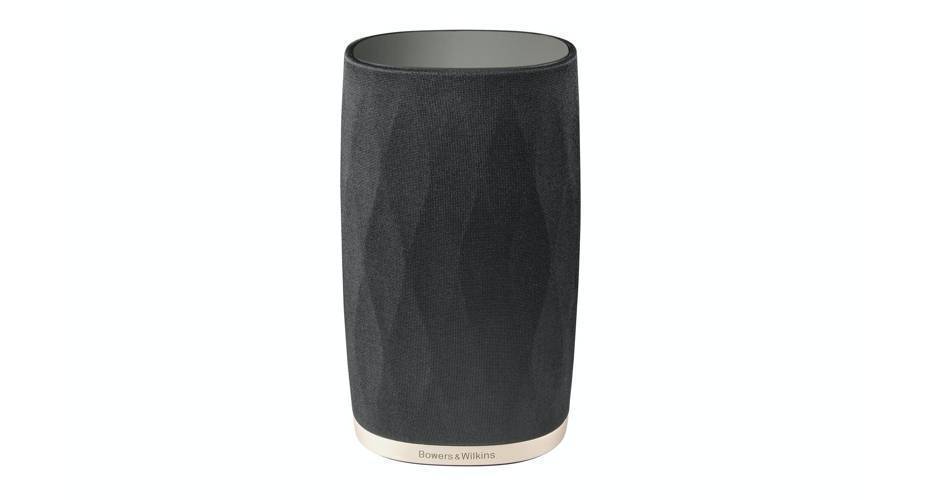 What's on the outside
All Bowers & Wilkins products have both great sound and appearance. This is no different with the Formation Flex speaker. But I will start with the outside.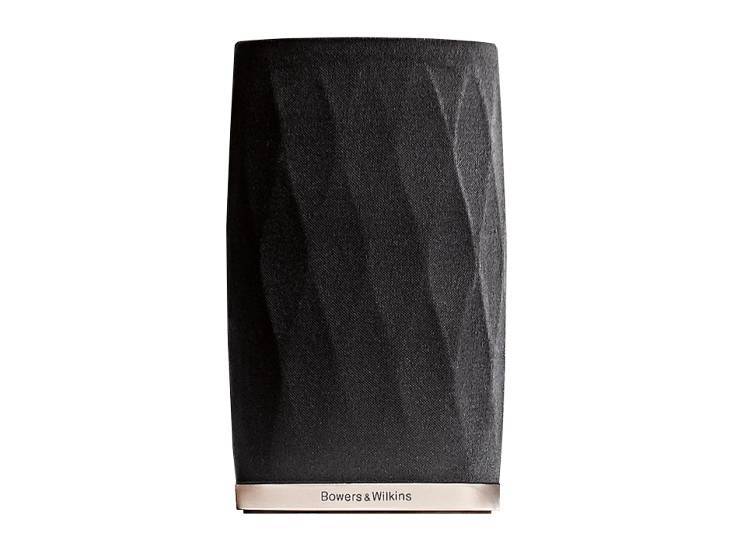 It is a square-shaped cylinder with rounded sides and smooth transitions between them. Its side walls are almost entirely covered with delicate fabric, which hides a proper enclosure made of strong plastic. The latter has a characteristic texture with a geometric pattern, which is delicately marked on the fabric masking it. It looks interesting, especially when light falls on the side surfaces at a small angle. Thanks to this texture, which is visible in the light, and a slight expansion of the loudspeaker body in the middle of its length, it has a remarkable form, which catches the eye. The black fabric is also well played with the aluminum rim with the manufacturer's name on the base.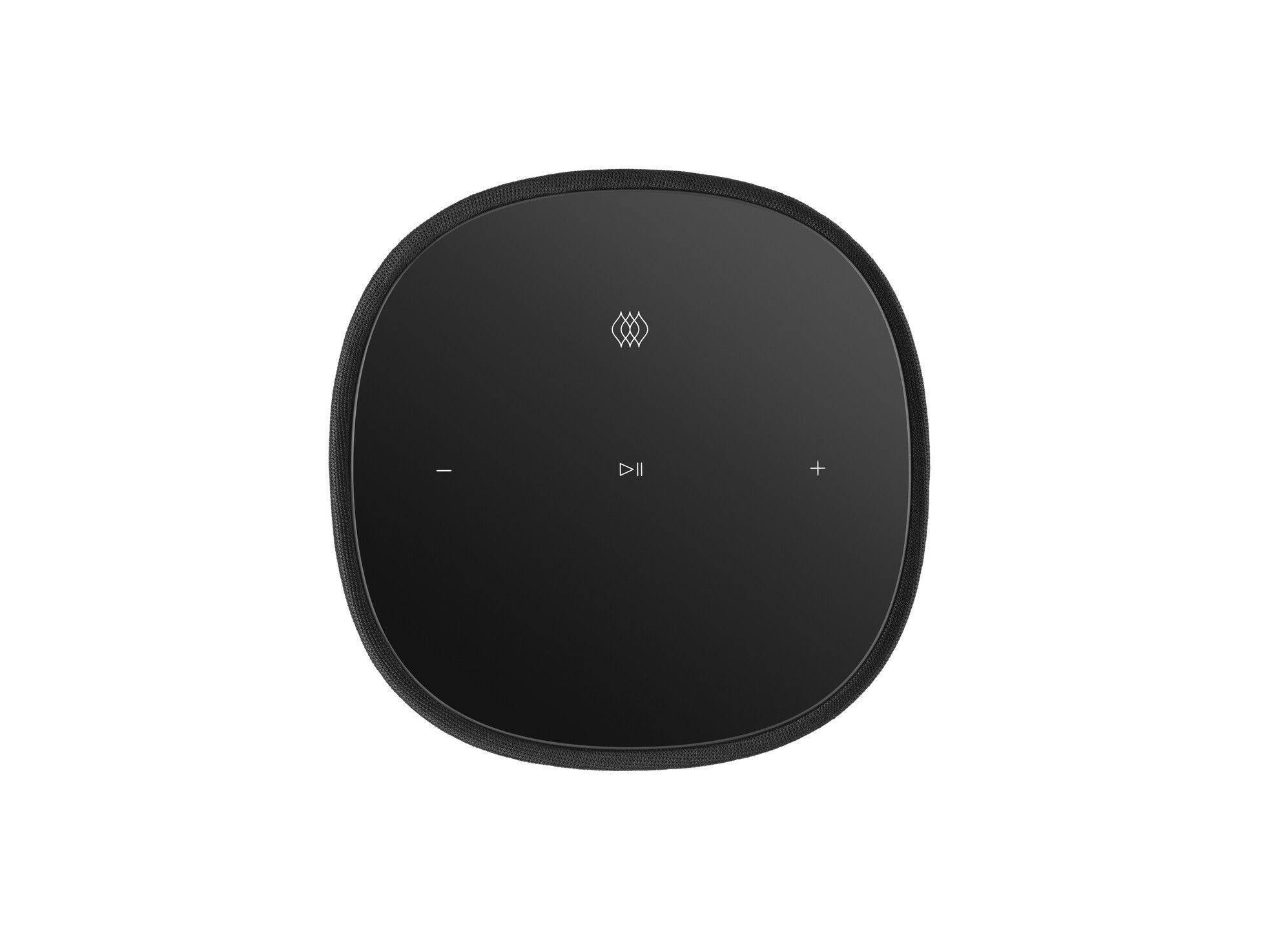 The upper surface is occupied by a glass panel with illuminated touch buttons allowing to control playback (start/stop) and sound intensity and the Form button used, among others, to connect the speaker with sound sources. It also serves as a connection status indicator. On the bottom of the speaker there are power, ethernet, to connect the speaker to the local network directly on the cable, service USB-C port and reset button.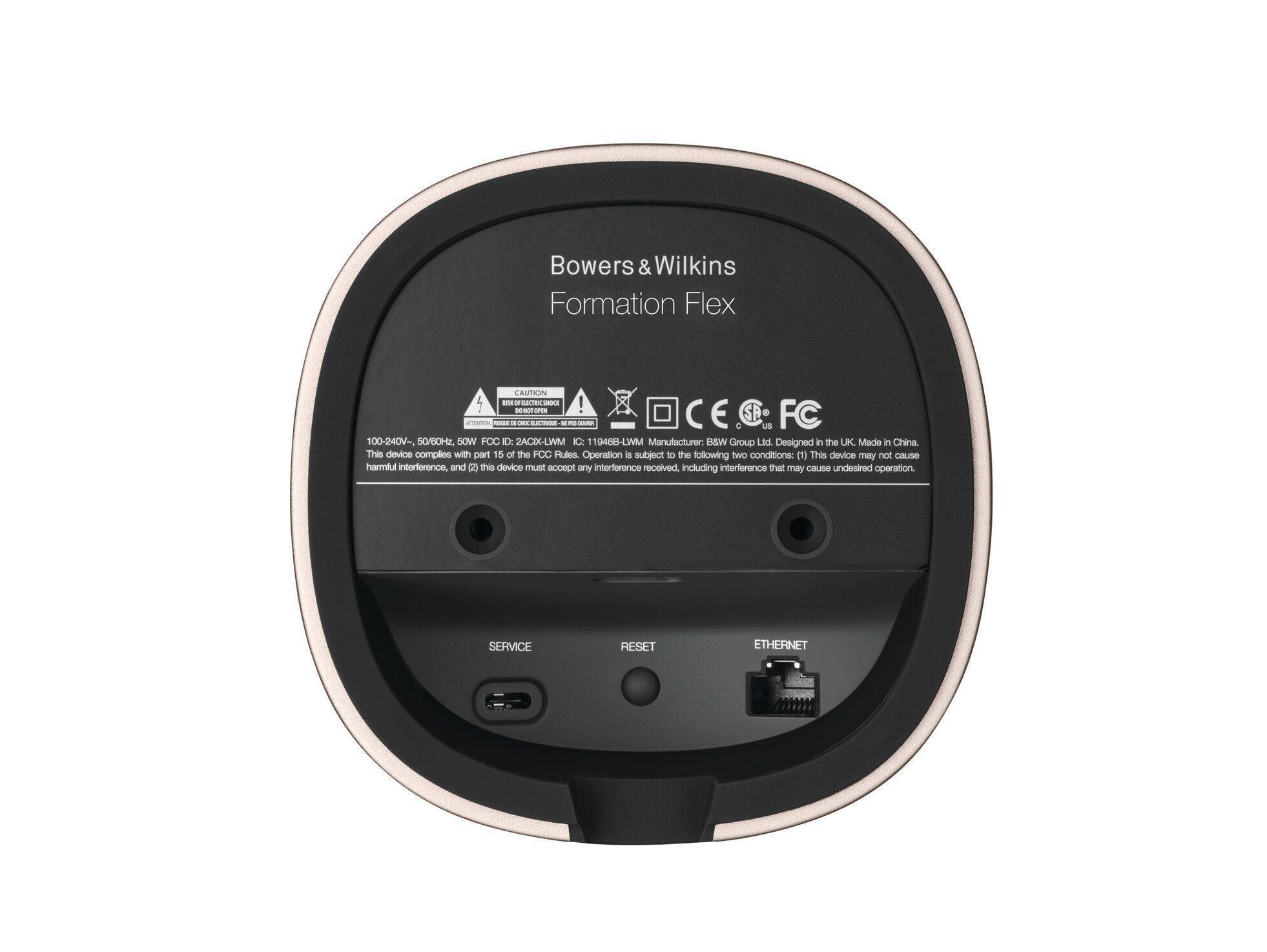 Operation
Connecting and configuring the speaker is easy. Everything is done via a smartphone and the dedicated Bowers & Wilkins Home app. During the first configuration, the speaker connects to the iPhone via Bluetooth and then connects to the local WiFi network. Of course, if you connect via cable, it will be visible in the local network immediately. However, the manufacturer recommends using a wireless connection instead of LAN in order to get the best time synchronization guaranteed by the proprietary MESH network (1 millionth of a second between stereo channels and 1 thousandth between rooms). It is also worth mentioning that the Formation Flex speaker can be used at home in a variety of ways - solo, in a stereo pair, as effect rear speakers with a Formation BAR soundbar in a home theater system, and as a multi-room speaker. If necessary, and regardless of whether Formation Flex is configured as a pair of stereo speakers or effect channels in a home theater system, you can add a wireless subwoofer, Formation BASS, to enhance the sound impression in the lowest frequency band.
Formation Flex works within Bowers & Wilkins' MESH wireless network, which uses home WiFi to provide excellent stability and time synchronization. It also supports AirPlay2 and Bluetooth aptX HD communication. With AirPlay 2 support, I can send audio to the speaker from any device, iPad, Mac or iPhone. What's important is that in the application that supports it, information about the song being played will be updated regardless of the source from which the audio is being sent.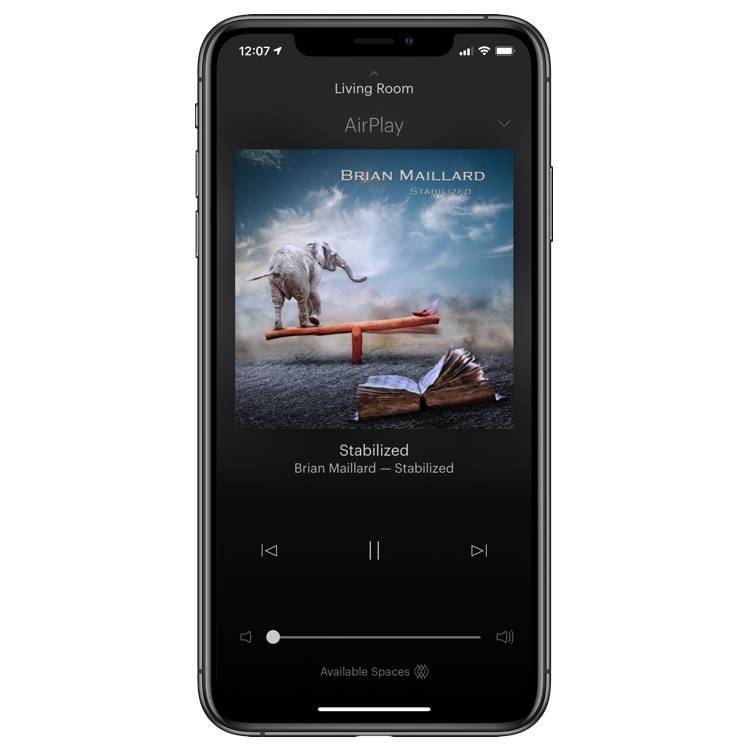 Formation Flex also works with Spotify Connect and Roon. The device receives streaming audio at 96 KHz at 24 bits and provides full 24-bit audio playback.
Sound
Formation Flex is equipped with two drivers, including a 1-inch tweeter and a 4-inch woofer. I have to admit that this set works perfectly well. The sound quality reproduced by this device is high. The speaker plays quite bright and wide, even for a mono device. All rock, progressive or jazz productions sound very nice on it, where complicated structures are built by dynamic and often clang- played bass, clean and overdriven guitars, keyboard instruments and strongly accented drums. All parts of these instruments draw attention to each other with their sound, do not disturb and do not drown out. The speaker plays very selectively. Crystal clearness of sound and rendering details and nuances on a very high level are, in my opinion, its hallmarks.
I've listened to Rush, Dream Theater, Pink Floyd, Pat Metheny Group, Antoine Fafard, Sons of Apollo (a supergroup founded by former drummer Dream Theater), as well as Tony Levin's "Stick Man" albums, Brian Maillard's latest album "Stabilized", "Robots Against Entropy" by the band of the same name and of course many others.
My attention was also drawn to how the speaker behaves at relatively low volume. Even playing very quietly, it keeps the dynamics of individual instruments and the audibility of all tastes or nuances, which are not missing in progressive rock or smooth and fusion jazz. It also plays well at medium and high intensity. Formation Flex can successfully fill a quite large salon with the highest quality sound.
During the presentation in London I had the opportunity to listen to the sound of two Formation Flex speakers in a stereo pair, additionally reinforced with a subwoofer, and although mostly classical music was played on this set, their sound made a very positive impression on me.
Summary
I have not met a speaker on the market that would play such a clear and detailed sound with such a small size. In all respects the new Bowers & Wilkins speakers are a very successful product and should appeal to very demanding music lovers, both in mono and stereo configuration.