Audio-Technica is a brand well known among lovers of good sound. One of the most recognizable models of headphones of this company, popular also among music producers and musicians who visit the studio from time to time, is the wired M50x. I met with it myself and used it in the studio. Last year Audio-Technica decided to cut off this kind of umbilical cord and released a wireless version, the M50xBT.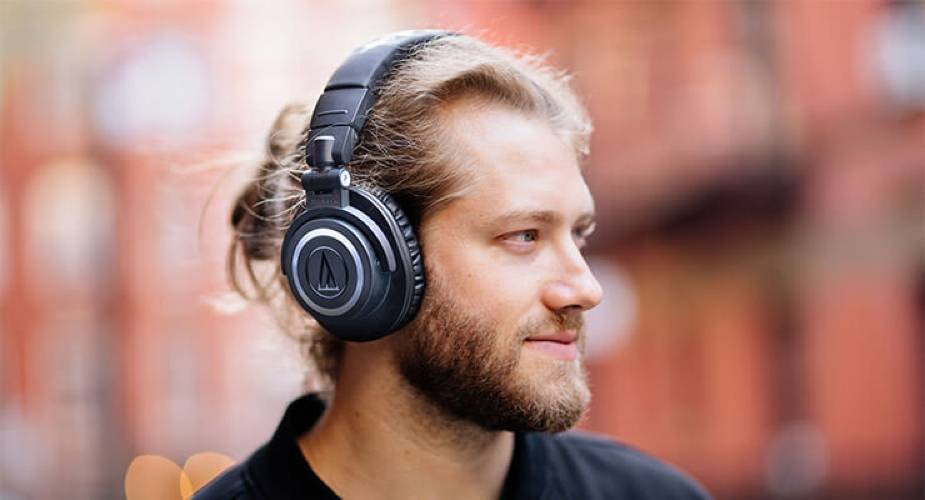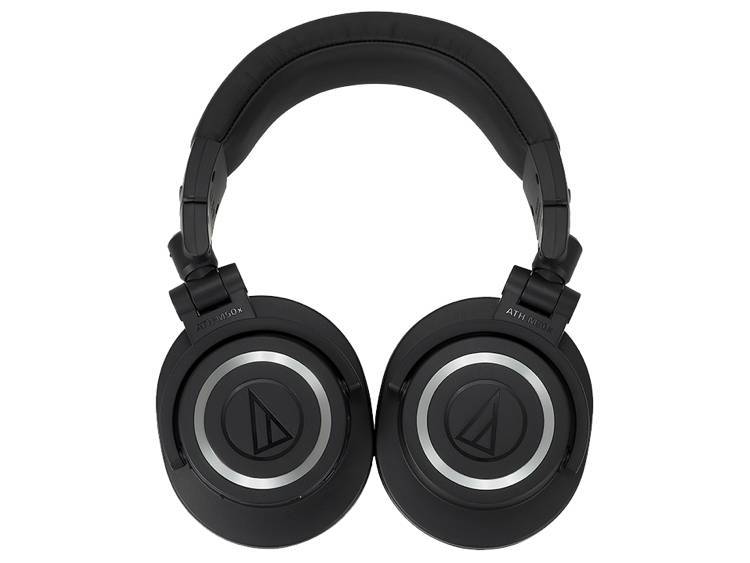 What's outside
The M50xBT is visually no different from its wired counterpart. Finished in a black mat, the solid and pleasant to touch material, combined with eco-friendly leather and aluminium circles on the top of each shell, makes a great impression. Everything fits perfectly, nothing crackles, nothing flies.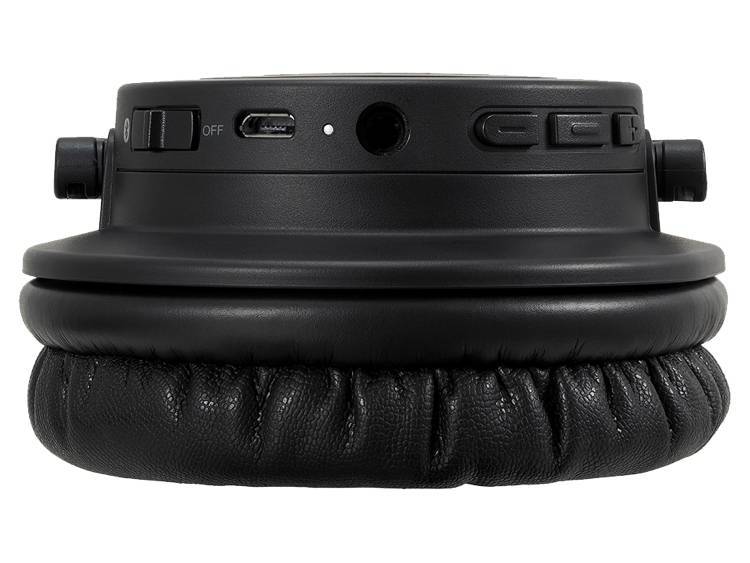 A big advantage is the design of these headphones. They are not only folded inside, which makes them easy to carry (it is worth to hide them in the bag included in the set), but also the forks of the shells rotate 180 degrees. Thanks to that they will surely fit on every head and ears.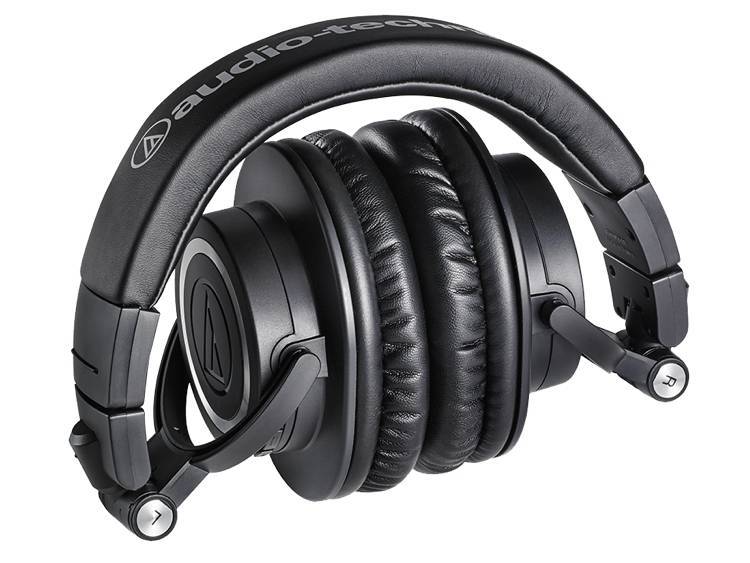 On the side of the left side of the shell, there are playback control buttons, headphones switch, micro-USB charging socket and mini-jack socket to connect them in the traditional way with a cable. It is worth noting that it is 3 mm lower than the side wall, so when choosing a different cable than the one included in the set, remember about the proper shape of the plug itself. This one comes with a remote control with a microphone. Of course, the headphones themselves are also equipped with a microphone. Both are perfect for voice conversations or teleconferences.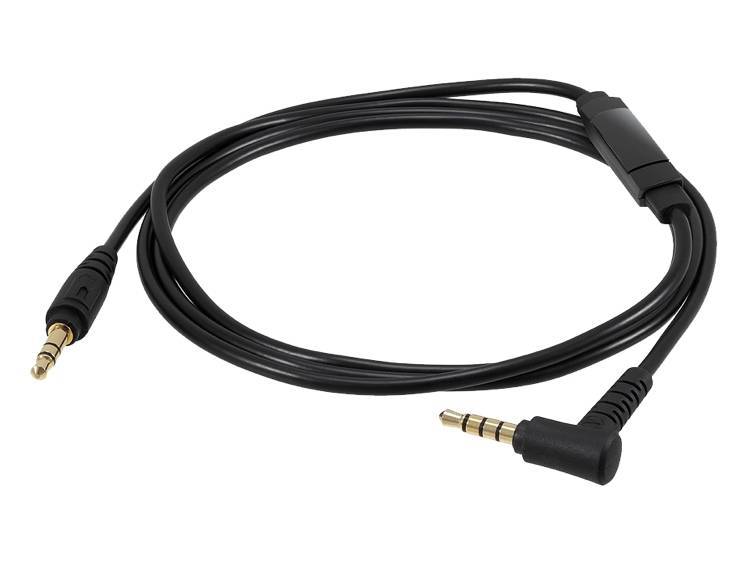 M50xBT is - just like their wired equivalent - earphones. The shell lining is quite soft and wide enough to cover a medium-sized auricle. The headphones hold tightly and comfortably on your head and ears, suppressing the surrounding sounds well (which in my case is quite important when next door in the living room there is a TV set with a movie watched by my children). Their presence is felt, but you can successfully listen to music for about 4-5 hours without feeling more tired.
Without cable
The ATH M50xBT headphones communicate of course wirelessly via Bluetooth. Pairing the headphones is done without any problems. Simply turn them on and they immediately appear in the list of devices ready for pairing, or - if they have already been paired before - they will connect to the audio source. I must admit that it's been a long time since I've met headphones that would have problems with this.
They are also equipped with a battery with a capacity of about 40 hours of listening time. In my use, I listened to music on them for 4-5 hours a day and charged them every 7-8 days on average.
App for iOS, Siri and Google Assistant
Audio-Technica also offers an application for iOS and Android. It allows you to use the headphones even more conveniently, change their settings or update the firmware. Directly in this program you can control playback, sound volume, check battery power level, or peek on the map to see where you left the headphones.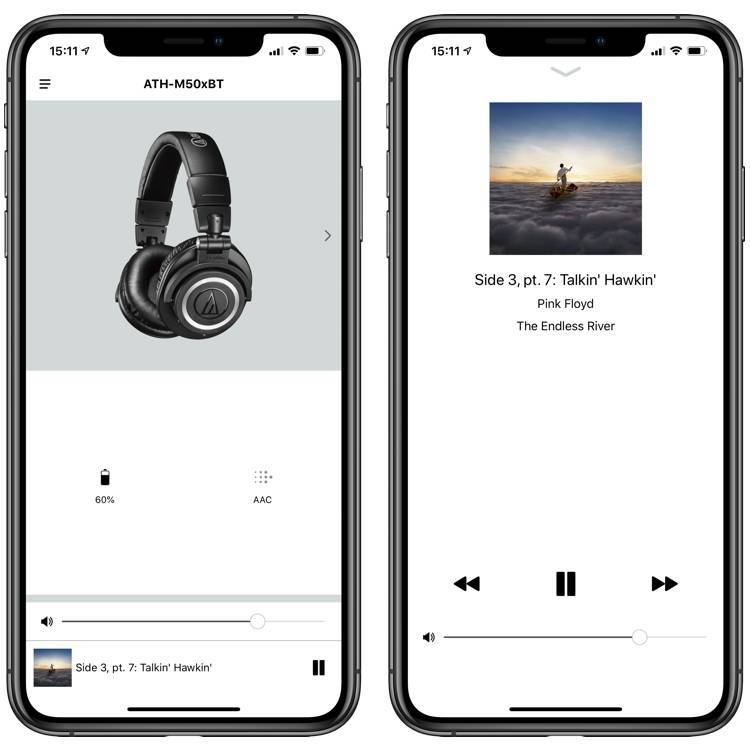 It should also be mentioned that the headphones work with Siri and Google Assistant. Just press and tap and hold your finger on the external surface (which is the touch panel) of the left shell to activate Siri on your iPhone, iPad or iPod Touch or Google Assistant on your Android smartphone or tablet.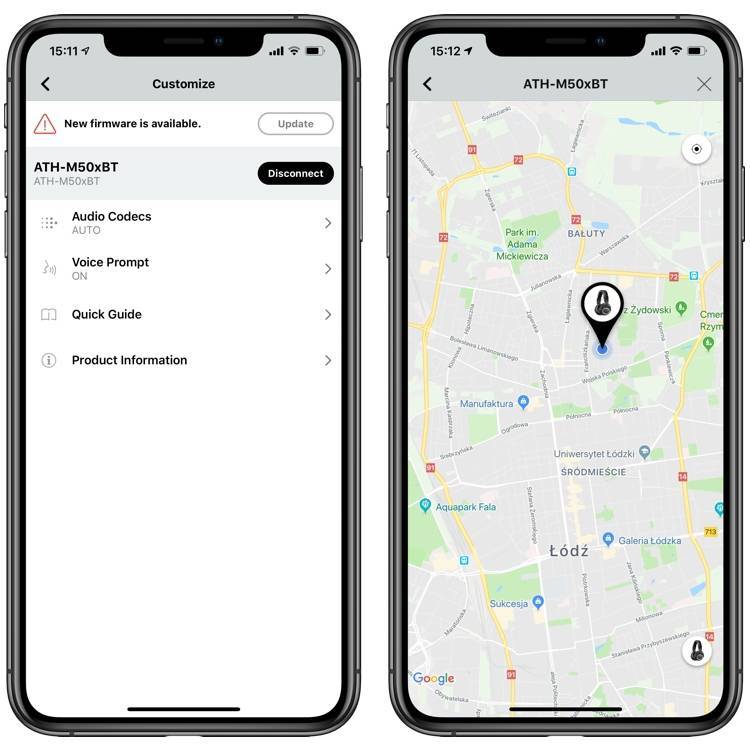 Sound
The headphones play characteristic warmth, with a strong but not exaggerated bass with sufficient dynamics. So there is no question of rumbling or muddling higher bass in some headphones, which is very important in case of all instruments playing on the border of both frequencies. Bass, if it is to pulsate, pulsates and lasts as long as it should. I can say the same about the middle. Vocals and string instruments, especially guitars, but also keyboards are clear and dynamic, also in tracks that are full of different electric instruments, which is quite common in rock and progressive metal. High frequencies are least exposed, although this is not a drawback. There are as many of them as there should be, I haven't encountered excessive exposure, there were no unpleasant shots stabbing my ears, sibilization etc.  ATH M50xBT are headphones with very pleasant, clear and warm sound. They have proven themselves in every kind of music I like, from folk, film music through smooth jazz, rock, progressive rock to metal. I will also mention that the producer declares that these headphones play exactly the same way "over the cable" as they do in a wireless connection - and indeed they do.
Summary
Audio-Technics undoubtedly succeeded with cutting off the already mentioned umbilical cord from its classic and one of the most recognizable headphones while maintaining a great sound. They will work well when listening to music on the road, e.g. on a bus or train, at work, when the music is the background and the need for proper isolation, and also when we really want to enjoy the music. All this with great performance quality and at a reasonable price.
Product photos: Audio-Technica