Users of 12-inch MacBooks, the latest lineup of MacBook Pro and MacBook Air know that without an adapter or a move, users of 12-inch MacBooks, the latest lineup of MacBook Pro and MacBook Air, know that without an adapter or a move, users of 12-inch MacBooks, the latest lineup of MacBook Pro and MacBook Air, are able to do so. Depending on the version, these computers have one to four USB-C ports. This is a universal solution, because it can charge your computer and connect virtually any accessory or peripheral, but still has one disadvantage. This standard is still not popular enough to do without the already mentioned adapter or hub. The latter also allows you to connect many more devices to your computer than there are ports available in it. There are many such hubs on the market. I have already tested several of them myself. Without a doubt, however, one of the best is the HyperDrive SLIM 8-in-1 USB-C Hub.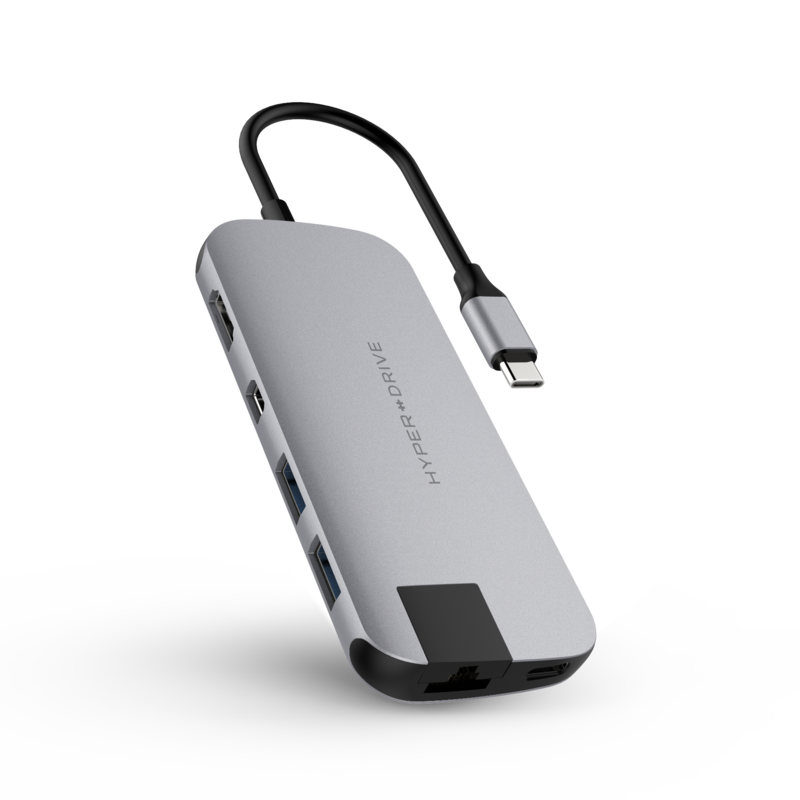 It is probably one of the most universal in terms of the ratio of the number of ports to the size of such accessories available on the market. It can replace one USB-C slot in our computer with eight different ports. They are available to the user:
one USB-C port with Power Delivery function,

two USB-A 3.1 ports offering 5 Gbps data transfer,

one Ethernet port,

one miniDisplayPort sending a 4K image at 30 Hz,

one HDMI port sending an image of up to 4K resolution at 30 Hz,

one SD card port,

one microSD card port.
Importantly, all these ports can be used when charging the device via the USB-C port. It is only a pity that this port does not support Thunderbolt devices, and the Apple computers themselves allow only one monitor to be connected to one USB-C port (in case of two monitors connected to the same slot in MacBook or MacBook Pro the screen will be cloned). This is unfortunately a limitation imposed by Apple itself and applies to all accessories.
The casing is very solidly made of aluminum and is available in gray and dark gray (star gray). Nothing creaks, nothing bends, you can safely take this hub on a long journey. It is also equipped with a small, blue glowing diode, which shows that the device is correctly connected to the computer. The hub is extremely small in size (11.2 x 4.7 x 1.2 cm), especially if we take into account that it offers a port to connect to the Ethernet network (or simply to connect to the Internet via cable). This was solved in a very ingenious way. In the upper part of the casing there is a cut-out for the wing of the mentioned port made of black plastic. After lifting it you can easily place the plug of the network cable in this socket.
The cable connecting the hub with the computer is about 15 centimeters long (including the plug's housing), which is enough to place it on your desk or other surface.
HyperDrive SLIM 8-in-1 USB-C Hub is one of the best solutions of this type currently available on the market. The multitude of ports, including Ethernet port, which is not commonly available in accessories of this size, as well as the quality of workmanship and durability make it the best companion for MacBook, MacBook Pro or MacBook Air, both at home or office, as well as during travel.